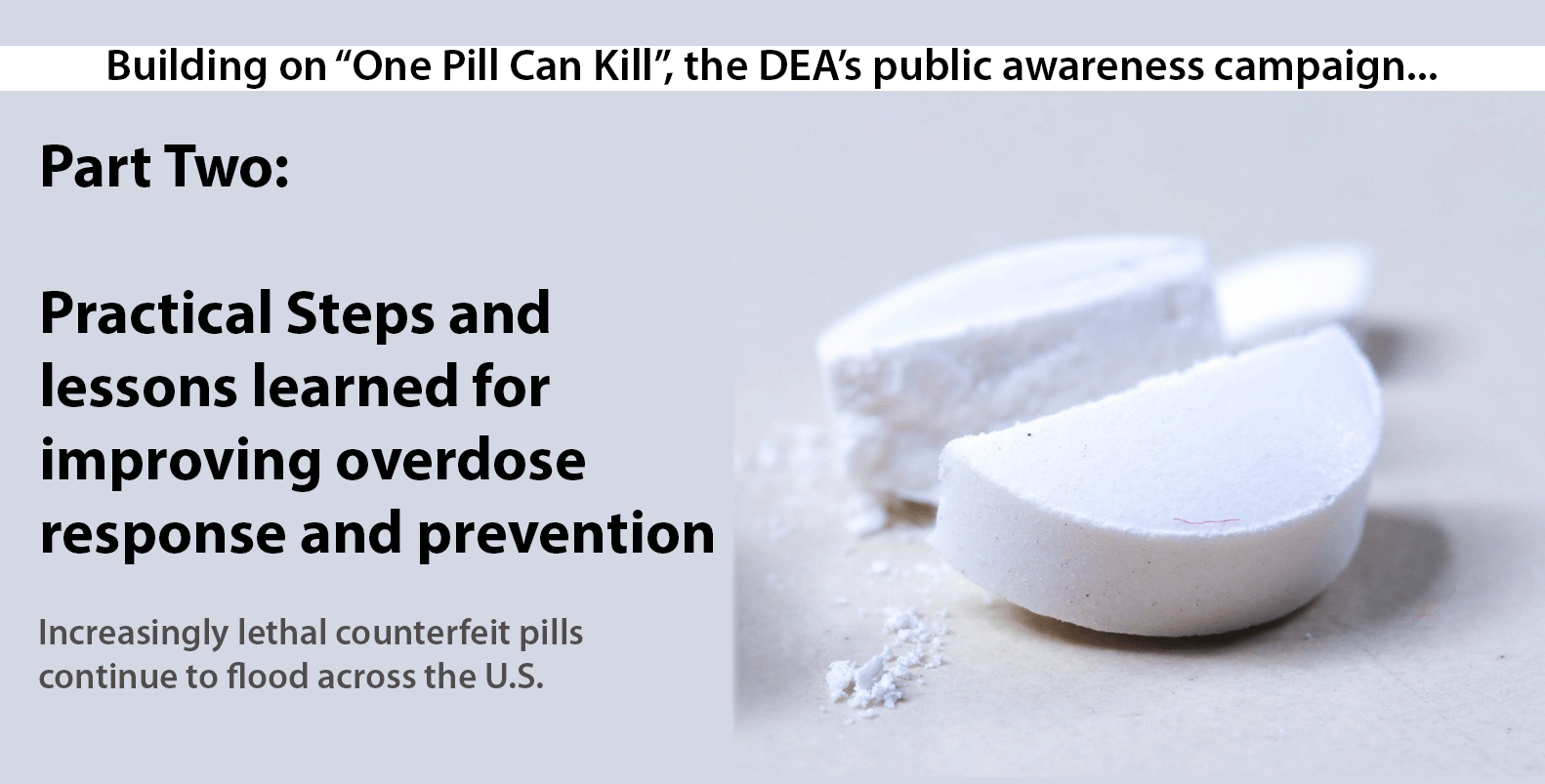 Overdose Response and Prevention: Part Two of Three-Part Series
Paramedics from across the country share practical steps and lessons learned for improving overdose response and prevention within MIH programs.
This is the second of three articles building on "One Pill Can Kill", the DEA's public awareness campaign about the growing overdose problem in America. In this article, we highlight Phoenix Paramedic Solutions who are working to break down communication barriers in the addiction recovery process.
Phoenix Paramedic Solutions, based in Lafayette, IN, services nine counties, including the 187,000 residents of Tippecanoe County. They describe themselves as "not just an EMS agency", but as a diversified healthcare organization, and in 2019 they received a seed grant for a Quick Response Team (QRT) which would help those struggling with substance abuse.
"We saw an immediate reduction in overdose deaths," says Nathaniel Metz, CEO at Phoenix. Indeed, after an all-time high in 2018, in 2019 overdose deaths dropped by 16% for Tippecanoe County, with opioid overdose deaths specifically dropping by 26%. The county saw other benefits as well: "We saw an immediate reduction in drug-related arrests in our community, through collaboration and ecosystem building," says Metz. And the benefits continued despite the pandemic: for Tippecanoe county, overdose deaths didn't increase at all throughout 2020. "The rest of the state saw about a 36% increase," says Metz.
However, in recent years the news has been darker. In 2021, Tippecanoe county saw a 16% increase in overdose deaths, and in 2022, they surpassed 2018's all-time high. The cause remains unclear. "That's one of the biggest things that our community is working on," says Metz, "really trying to pinpoint why this is occurring."
One factor, Metz suspects, is the recent surge in counterfeit pills laced with dangerous substances. "It's counterfeit medications … which I think is contributing to higher overdose deaths, most of which are accidental," he says. Warning the public about the potential for such accidental deaths is the purpose of the DEA's "One Pill Can Kill" campaign, which began in September 2021. While the DEA works to stem the tide of counterfeit pills, Phoenix works to build up vulnerable populations, helping them recover from the disorders and traumas that led them to an accidental overdose in the first place.
This leads to the second factor Metz believes contributes to these overdose deaths: communication barriers.
One kind of communication barrier is personal isolation. Every month, Phoenix reviews overdose statistics and specific case studies, and they have found that a large portion of those who overdose have been isolated: lonely, single or divorced. Children have felt especially isolated. "The kids didn't have anywhere to talk about their issues," says Metz, "… the kids were saying that, during the pandemic, they recognized an increased stress with their parents, and so they stopped bothering their parents with their issues. And then of course, they were isolated away from their peers too, so they didn't have anyone to talk to."
In response, Phoenix seeks to foster community, connecting individuals to healthy social networks such as the Lafayette Recovery Cafe and up-and-coming Teen Cafes. They also work with their community to run youth mental health summits, where they can collect better data about the challenges children struggle with, and facilitate round tables where that data can be shared with school counselors.
Another critical communication barrier Metz sees is a lack of trust. "Whenever we're talking about vulnerable populations, homeless populations … there's already a built in mistrust," says Metz. "Getting them to believe in you … is a challenge our team faces every single day." Phoenix's solution is simple but effective. "We're being advocates for individuals while they're in jail … and what that helps us with is that whenever they get out, they trust us and they want to work with us."
In one case, Phoenix advocated for inmates at a corrections center after getting a tip that they weren't receiving their medication. In another case, Phoenix was contacted by a homeless shelter resident with concerns that a girl from the shelter had disappeared. Phoenix took the resident's concerns seriously, and in the process helped save the girl from human trafficking. In yet another case, Phoenix advocated for an out-of-state veteran who had been extradited to an Indiana prison – just as he was losing his apartment back home. "We were able to connect with his VA officer," says Dock Henry, a specialist who worked on the case. "We were able to get his stuff into storage. And then not only were we able to do that … we got him connected with a VA lawyer as well."
"We give these individuals voices when they don't have one," says Henry. "We know they have the right to recover, and we're going to do everything we can to help these individuals."
Perhaps the most damaging communication barrier Metz sees is a lack of coordination between organizations, leading to broken transitions of care. "There's this mis-coordination in our system," says Metz. "There's lots of resources, but we're not coordinating well enough, and people are falling in between the cracks because of it." Metz recounted one of several frustrating cases. "We worked for literally a year on getting one individual to buy-in to going into treatment … and so we got him into a 28-day inpatient stay. What we didn't know was that his name had come up for a permanent housing voucher. Well, once your name comes up and you're on that waiting list, you have a week to act … otherwise, you fall off the list. Well, he was in his 28-day inpatient stay … so he lost his place."
To avoid further clashes between programs, Phoenix seeks partnerships with hospitals, crisis hotlines and other such groups. Dr. Nicole Adams, who has been assisting a local coalition addressing substance use, shared: "The [Phoenix] QRT is a key organizational member of the coalition and a connector to services in our community." However, the regulations surrounding patient information pose a challenge. "Liability is one of the biggest barriers," Metz says. "…That's where [HealthCall services] are coming in."
With HealthCall, Phoenix has a Care Network they can use to collaborate with other organizations securely and see which network members are working with a given patient. "People [at a clinic] would love to see that someone's connected to a food program, or that they're connected to Homestead for financial research," says Metz. HealthCall's workflows ensure that each network member involved with a case has agreed to the appropriate HIPAA regulations, and critically, Phoenix can control how much patient information is shared with each one.
"We're literally trying to break down communication walls," Metz says. "[HealthCall] is the tip of that spear."