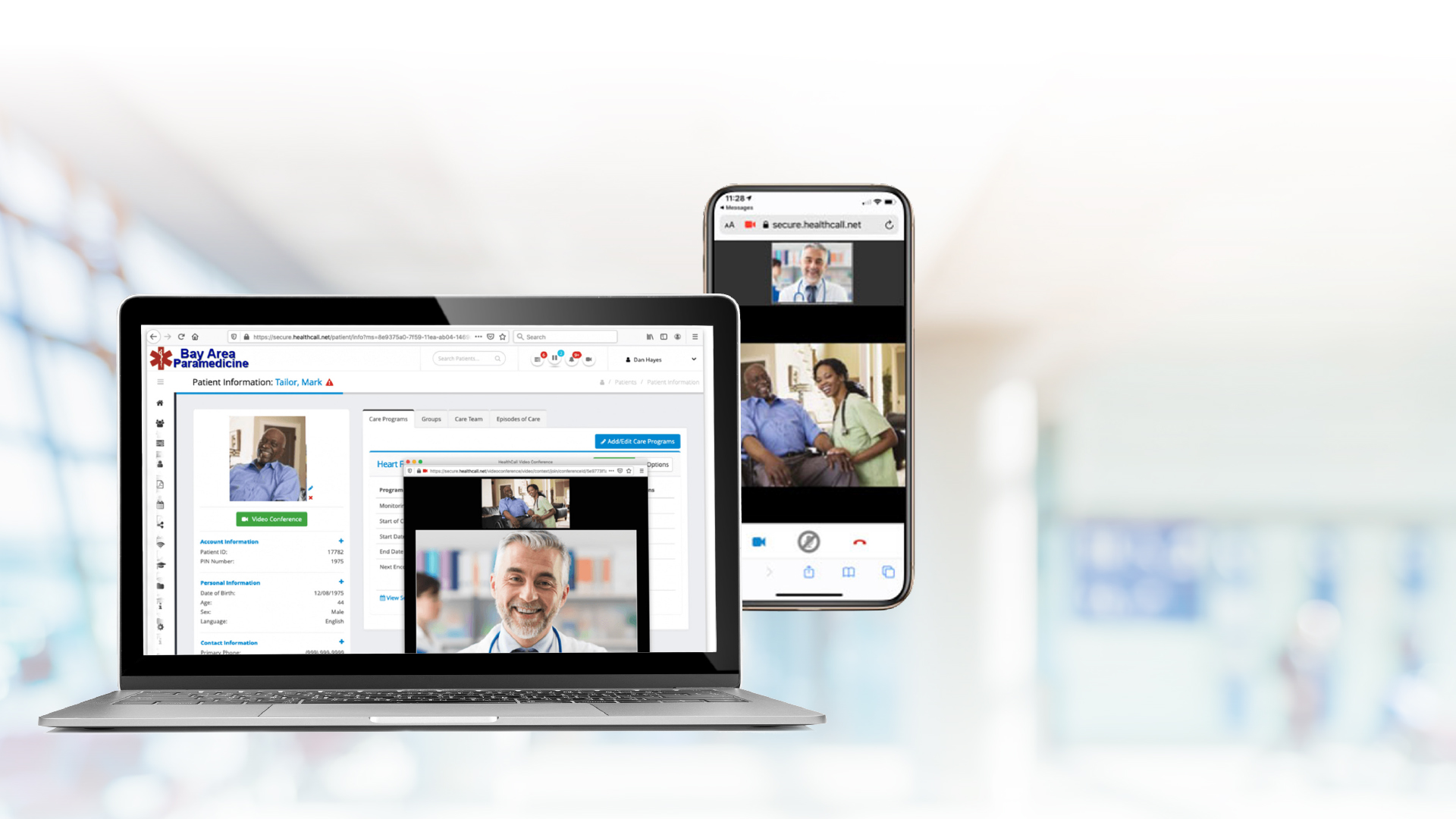 Virtual Care and Telehealth Platform
Traditional Care and Well Beyond
From demanding 911 call centers and on-scene emergency care to in-home therapy and routine virtual care, HealthCall Telehealth service provides fully integrated HIPAA-compliant, high-quality live audio, and video for up to four people with universal device support. Easily launch video sessions directly within the HealthCall platform to invite patients, care providers, and others. Recipients simply click on the secure link to join the video conference. No apps to install, no registration, and no licensing make HealthCall video easy, secure, and highly scalable.
Like all HealthCall products, our Telehealth solutions are fully integrated which streamlines documentation and enables automated billing. Participants, time, duration, encounter notes, CPT codes, and assessment data can be automatically exported for billing.
When being there isn't best, HealthCall Secure Telehealth video enables care professionals to deliver advanced care anywhere connecting patients and care teams with one click across most devices and smartphones.
With literally hundreds of video options flooding the market, it is important to find a partner who has a track record of success. Our third-generation telehealth video is one-click easy and fully integrated within the HealthCall clinical management platform. Developed over nearly two decades, we have special expertise in ensuring you have quick access to all the tools you need to provide complete care from virtually anywhere.
Proven under demanding scenarios
High-quality, real-time audio & video
Easy, one-click to join (no app, no registration, no license)
Universal Device Support (smart phones, tablets, laptops, etc.)
Up to four participants (supports multiple use-cases)
Complete analytics, reporting, & tracking
HIPAA Compliant, end-to-end encryption (links cannot be reused)
Fully integrated (reduces billing errors, easier documentation, automated)
The intuitive HealthCall video service enables virtualize care with your personal touch. The technology is transparent. You and your patients can focus on what is most important, no apps to download, no licenses to renew, and no registration.
Our innovative HealthCall Secure Telehealth platform is taking care to a new level. With a single click, providers can securely connect with patients to deliver complete care from anywhere. As remote care becomes increasingly vital in today's healthcare landscape, HealthCall Telehealth solutions deliver a secure and versatile way to connect with single-click simplicity. Our innovative platform enables providers to deliver screening and automated follow-up in one click.
HealthCall Telehealth Solutions are fully integrated enabling documentation and reporting/analytics, billing for multiple use cases including:
Transition Care Management
ET3 (Emergency Triage, Treat, and Transport)
Remote Patient Monitoring (RPM)