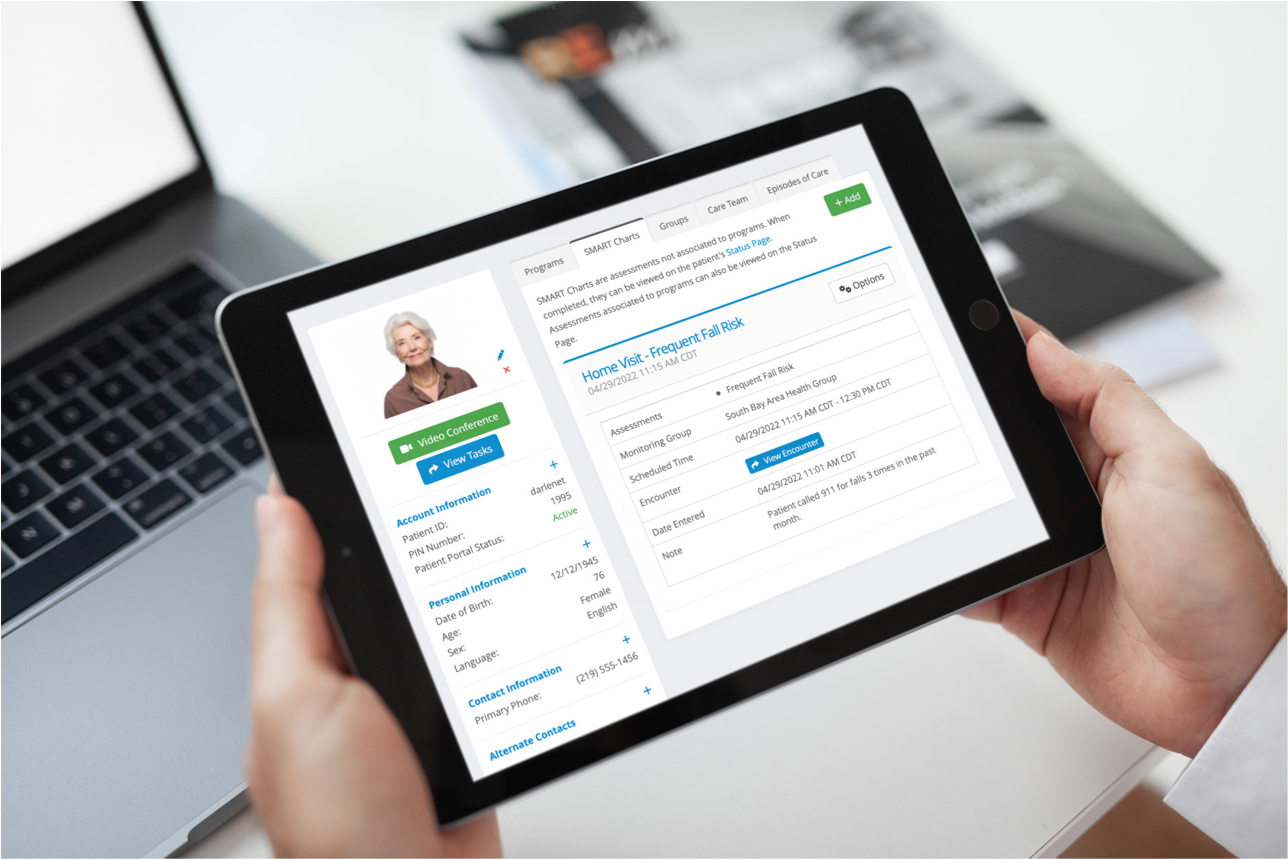 SMART Charts™
The Fastest, Most Accurate, and Versatile Way to Chart Patient Care
Empowering the new standard of flexibility in patient care documentation.
Document
SMART Charts by HealthCall – Sets of Multidisciplinary Assessments at the Right Time provide the fastest way to accurately document patient care in one system.
Versatile
SMART Charts empower care professionals to assess what they want and when they want to assess it with unprecedented versatility.
Flexible
SMART Charts are designed for use where flexibility is critical including mobile integrated health, community paramedicine, virtual care, post-hospital, chronic care, ET3 and providing alternate care for low acuity medical conditions.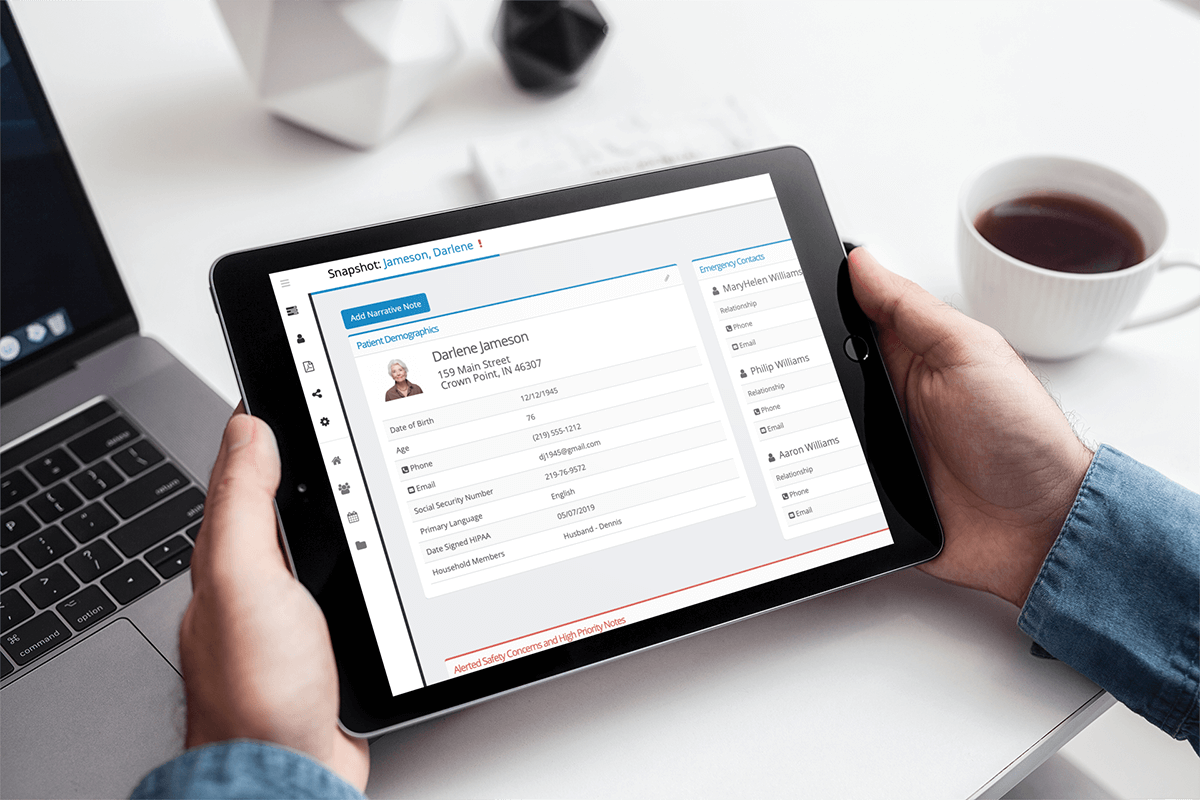 SMART Charts™ by HealthCall Provide the Fastest, Most Accurate, and Versatile Way to Chart Patient Care.
Standard SMART Charts such as STEADI Fall Risk, AUDIT-C, Columbia Suicide Screening, and more
Custom SMART Charts for vitals, disease-specific assessments, time tracking, and referrals
Bundle assessment in groups to complete a collection of SMART Charts in one click
Complete on-demand or schedule for a future visit, phone call, or video conference
Unprecedented Freedom in Documentation
Providing diversified care in the field presents unique challenges every day. SMART Charts frees those on the scene to maximize their experience and expertise to document all of the important and relevant issues at the point of care.
Quickly and easily choose from a wide range of clinically validated and standardized assessment tools such as the PEAT Scale, DAST-10, Frail Scale, PHQ9, CAT Questionnaire, and more.
SMART Charts can also include custom assessments to collect important clinical data, such as specific vitals or Head-to-Toe, as well as administrative information like Time Tracking and Community Referrals.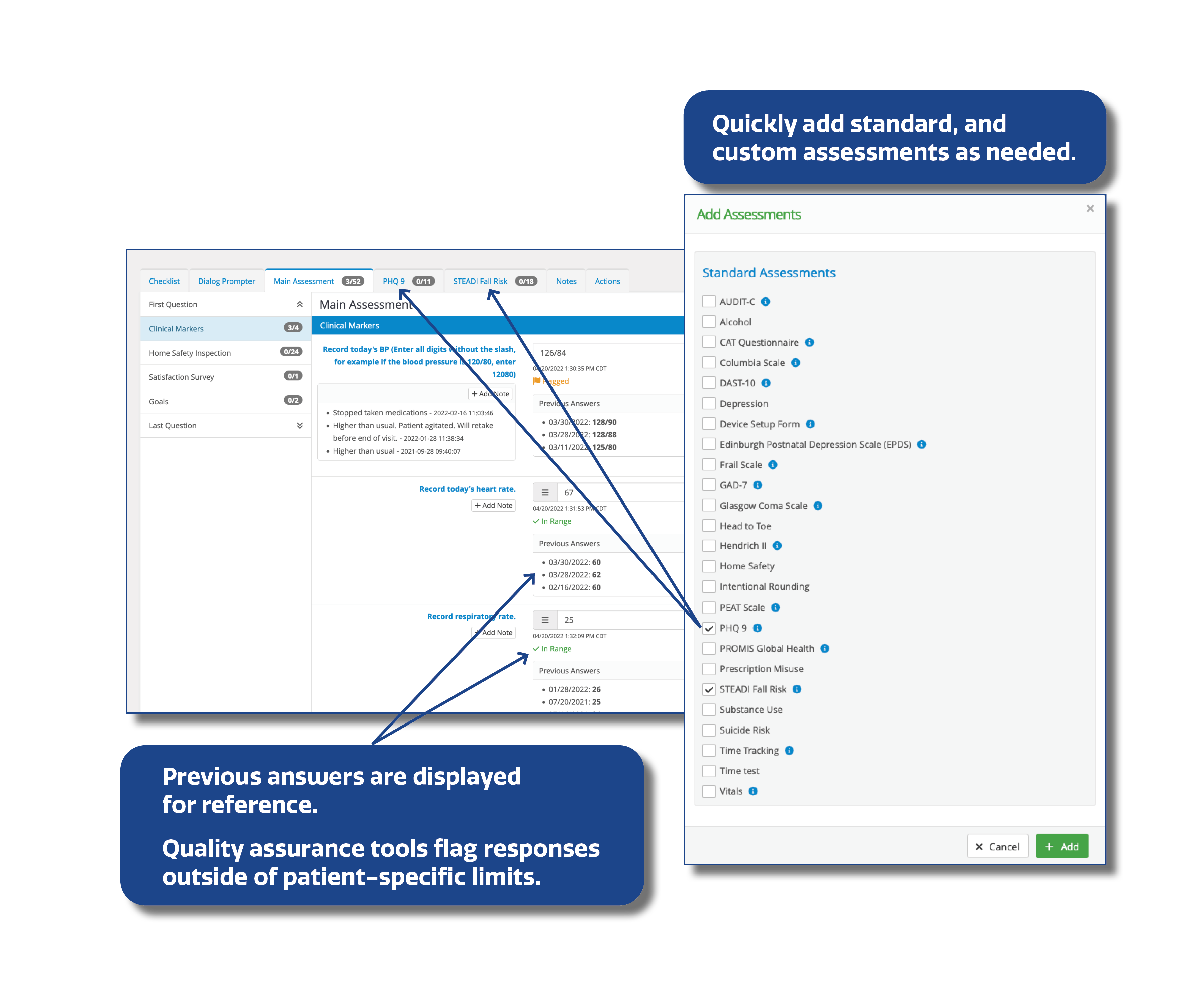 SMART Charts can be completed On Demand with the patient or can be scheduled for future follow-up with the patient when the time is right.
SMART Charts can also be added to Care Plans for greater personalized care and make use of core HealthCall features like decision support tools, previous answers, teleconferencing, and reporting.
Along with standard encounter reports and electronic signatures, all data elements stored in HealthCall are accessible for searching, reporting, and securely sharing.
Experience the new freedom in documentation with the proven outcomes of HealthCall Care Programs and the unprecedented flexibility of SMART Charts all within a comprehensive longitudinal patient record.