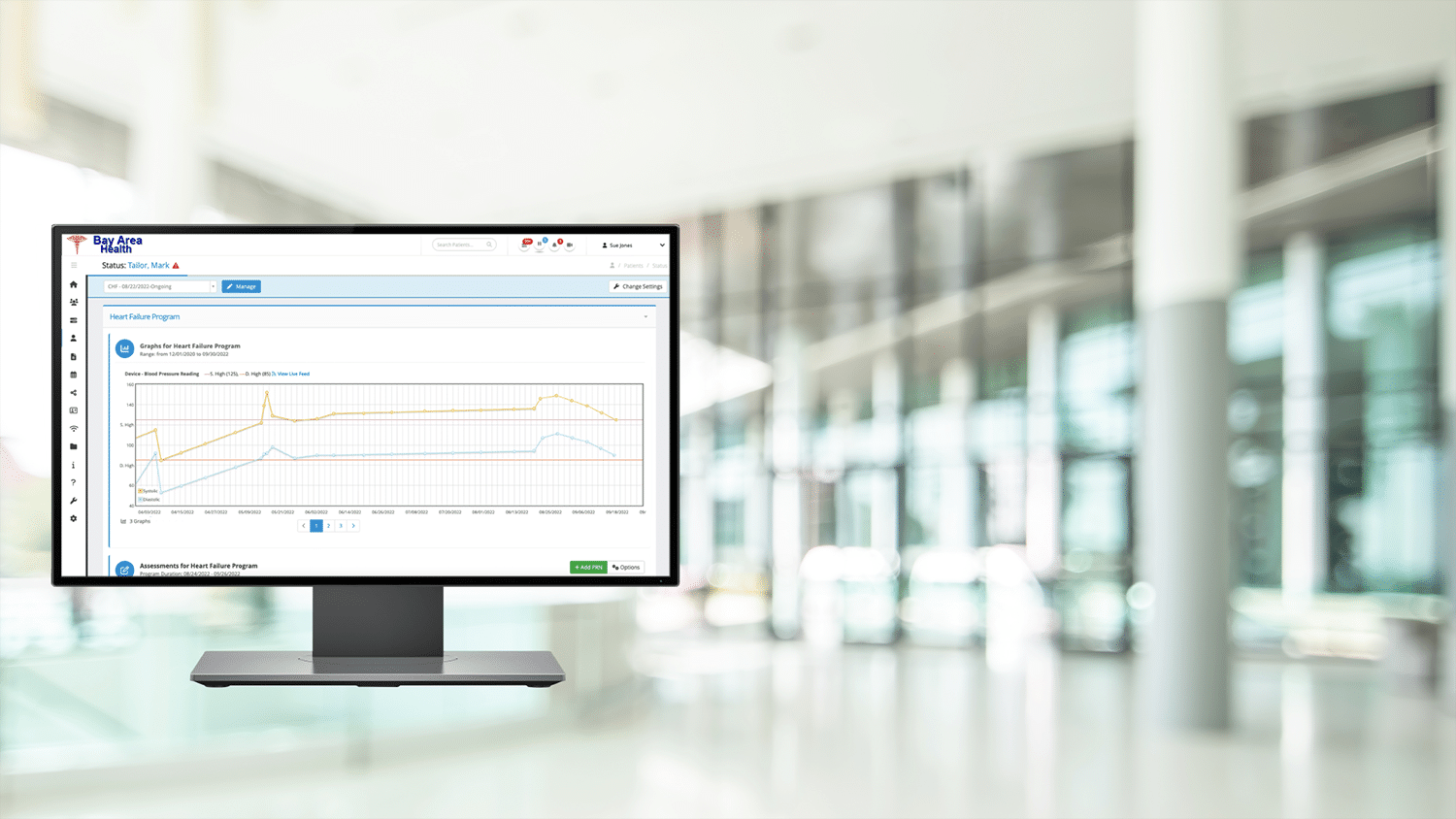 Better outcomes for more people without devices.
Remote Patient Monitoring (RPM)
Highly versatile remote patient monitoring has been proven throughout healthcare. HealthCall's RPM platform is accessible, scalable, cost-effective, and customizable.
Scalable remote patient monitoring with a personal touch
HealthCall's Remote Patient Monitoring platform uses SMS text messaging, email, and phone calls to encourage, educate, and assess patient progress — without devices.
Patented technology engages patients through an intelligent sequence of automated texting, email, and phone outreach to provide a superior experience enabling patients to respond in a way most convenient to them.
The automated HealthCall RPM interacts directly with patients to collect current and relevant information. Sophisticated risk-based decision support tools alert providers in real-time to take appropriate action when patient responses are outside of prescribed limits. For patients with unique clinical needs, elements within the monitoring programs can easily be individualized by the patient.
Beyond technology, HealthCall RPM acts as an extension of the care professional by applying behavioral health methodologies proven to empower and encourage healthier self-care behaviors.
Once in production, care team members have the option to quickly and easily individualize RPM programs to meet unique patient needs. For example, you can add assessment questions, add baseline measures, adjust decision support tools, change outreach schedules, and set communication preferences.
HealthCall RPM automates the communication of more timely and relevant health information with patients enabling care professionals to focus on the right patients at the right time.
High touch for patients. Low impact on you.
While a statistically small portion of the population typically accounts for over half of all expenditures and emergency resource utilization, the members of this portion are constantly changing. Simply monitoring those who have already suffered a medical event is still highly reactive and thus costly.
The cost-effective, scalable HealthCall model casts a broader care net to monitor larger populations and proactively identify rising risk individuals. Realtime alerts allow a process of management-by-exception enabling limited care teams to focus on the right patients at the right time.
By monitoring subtle changes related to key signs and symptoms, care professionals are alerted to patients early as they begin to trend outside of limits, to provide more appropriate proactive care mitigating the need for hospitalization or expensive emergency services.
"We switched to HealthCall for the greater flexibility and lower cost of ownership. HealthCall is easier to use and we can use it in other programs and reach a wider patient population."
Managing by exception with a personal touch
"The nurse finds out exactly what's taking place with the patient. At that point, they can add personalized patient education or reinforcements specific to that individual patient's needs.
Whenever a patient's response falls outside of their prescribed parameters, HealthCall RPM flags the patient's chart. Risk stratification tools prioritize follow-up calls accordingly. A huge patient population can be managed efficiently and effectively by very few staff.
Not only that, but care team members can focus on the right patients at the right time, providing patient-centric care where it's needed most as they interact with patients during critical follow-up calls."
L. Collins
Chief Clinical Officer
Home Health Services
Team of 6 managing 50,000+ sleep therapy patients
Two paramedics providing post-hospital care from 17 Texas hospitals
Small health department monitors large Texas county of all new and active COVID patients
Rapid
Our implementation team has successfully launched hundreds of programs nationwide, most within 4 to 6 weeks. The full turnkey approach follows best practices stepping clients through the entire process from program configuration, to training, through launch and ongoing support.
Ready-to-use Customizable Programs
HealthCall offers a number of evidence-based and production-proven standardized HealthCall Monitoring programs. Clients have the option of utilizing their own monitoring protocols or starting with a HealthCall program as a framework for customizing their own program.
Standalone or Fully Integrated
HealthCall RPM can be used as a standalone solution or fully integrated within the HealthCall care delivery platform featuring exceptional versatility in clinical documentation, care coordination, and patient engagement with program-specific clinical and administrative process automation.
Recognizable patient CallerID
In-bound toll-free calling
Smart scheduling (can avoid holidays and weekends)
Supports multiple question formats (yes/no, true/false, numeric, multiple choice, the scale of x to y, etc.)
Customizable risk-analysis tools
Device-based Monitoring for the 4%
For the small subset of patients who may benefit from physical monitoring devices, HealthCall supports both physical device readings and patient-reported outcomes. The real-time tracking and trending of both device metrics and patient-reported outcomes appear within the same interface.
Available third-party biometric devices include weight scales, blood pressure cuffs, pulse oximetry, and activity wrist bands. Through the HealthCall device API (application program interface) third-party device manufacturers and distributors build seamless integrations to display their device readings directly within the HealthCall interface. Decision support tools can then graph data along with alerting appropriate staff when readings are outside of prescribed patient-specific limits.
Related Client Success Stories
Galveston County Health District (GCHD) launched a new innovative patient care system with HealthCall to help monitor active COVID-19 cases in Galveston County.
Providers and paramedics can immediately begin using a web-based coronavirus screening and monitoring application to help patients remotely.
Plano Fire-Rescue advances community paramedicine. Joshua Clouse, BSBM, CP-C, Lic-P, a firefighter-paramedic with Plano Fire-Rescue was an early adopter of Community Paramedicine, a program advancing the role of paramedics in post-hospital, in-home care.

Connect Seamlessly. Document Freely. Advance Outcomes.
Don't miss our latest news and updates.
Connect seamlessly. Document freely. Advance outcomes.
Since 2003, HealthCall has been leading the advancement of care delivery in the most challenging environments, in our homes, streets, prisons, and shelters by empowering multidisciplinary care teams to provide highly personalized care with superior outcomes. The patented HealthCall care delivery platform enables exceptional versatility in clinical documentation, care coordination, and patient engagement with program-specific clinical and administrative process automation. HealthCall is the #1 Care Delivery platform supporting millions of patients and proven in hundreds of implementations nationwide including: Community Paramedicine Platform, Mobile Integrated Health Platform, CP-MIH Platform, Chronic Care Management Platform, Behavioral Health and Mental Health Platform, HME Resupply Platform, Remote Patient Monitoring Platform, RPM Platform, Hospital at Home Platform, Telehealth Virtual Care Platform, Occupational Health Platform, and many others.