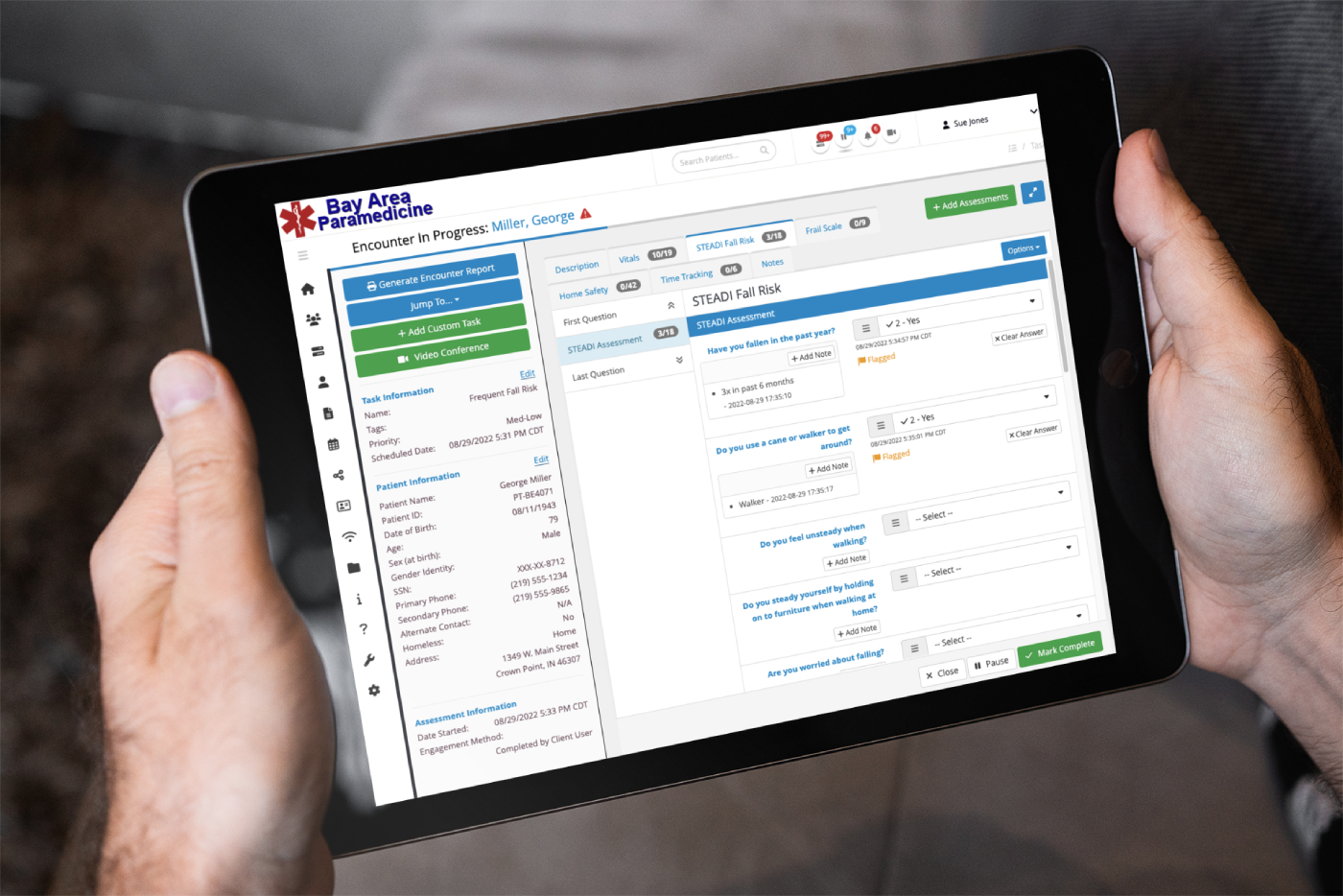 Community Paramedicine & Mobile Integrated Healthcare Platform
The field of paramedicine continues to expand beyond emergency care as a way to close the gap that exists in rural and underserved urban communities where inordinate numbers of elderly citizens, immigrants, and impoverished families often struggle to receive even the most basic care.  These programs are often referred to as Community Paramedicine or Mobile Integrated Health (CP-MIH).
Today, CP-MIH programs are successfully addressing the most daunting challenges facing the US unduly and disproportionately fall upon our local communities: escalating chronic disease, aging population, surging mental health and substance abuse, rising immigration, growing homelessness, and increasing uninsured and underinsured.
Due to the nature of these challenges, community paramedicine and mobile integrated health programs are incredibly diverse and require a high degree of flexibility to adapt to the specific needs of partners and available resources within the community.
Enabling Community Paramedicine and Mobile Integrated Health (CP-MIH) and beyond, the HealthCall Care Delivery platform empowers multidisciplinary care by uniting community services and empowering critical initiatives like Mental Health and Law Enforcement Co-Responders, Emergency Triage, Treatment, and Transport (ET3), Law Enforcement Assisted Diversion (LEAD), and Crisis Intervention Teams (CIT).
"People talk about fire prevention, like making sure the sprinklers work. I call what we're doing EMS prevention, and it's already helping our patients have a higher quality of life at home without hospital visits."
One Platform, Hundreds of Programs
HealthCall offers a comprehensive suite of outcomes-proven Programs, each serving as a guide to both patients and care team members in following best practices and evidence-based medicine.
Lowering 911 call volume (high utilizers)
Mitigating substance abuse disorders
Reducing mental health-related recidivism
Improving chronic care management and reducing readmissions
Providing on-scene occupational healthcare
Responding to emergency interventions
Learn more about the full suite of HealthCall Programs
Launch your new program quickly
We help clients launch new programs quickly with a combination of ready-to-use tools and customized assessments built on years of successful implementations.
In addition to programs, SMART Charts gives you unprecedented freedom in documentation immediately. In a click of a button, select any of the dozens of HealthCall Standard SMART Charts for clinical and administrative documentation. New clients are typically in production within two to four weeks.
New Programs and Custom SMART Charts can be added after launch as well, typically in just a matter of days.
The HealthCall Community Care Network enables public, private, charitable, and faith-based organizations to work more efficiently together while keeping the patient at the center of the care model.
Paramedics, healthcare practitioners, behavioral health, social services, and law enforcement can quickly and easily create security-compliant care teams to collaborate on tasks and share patient information in real-time. Simply select the relevant patient information to share and choose from limited to full access.
Connecting community-wide services and resource within patient-centric care teams enables the delivery of more efficient and appropriate care in less time with better outcomes.
"You get an incarcerated person out of prison and into treatment right away, yes, you save on the monetary costs in terms of jail time, housing, going through the court system…"
Paramedic Enhanced Community Care
For years, Capitol Medical Services (Capitol Medical) built its name and reputation by offering onsite treatment at events, everything from rodeos to concerts to sporting events. When COVID-19 struck last spring and shut down the events industry, Capitol Medical had to pivot quickly.
At first, launching a new technology-driven initiative during the early days of the unfolding COVID-19 pandemic might not have seemed like the right time. But hindsight proved timing is everything—and with the ongoing opioid crisis, there wasn't another moment to lose.
Gary Downs is a community paramedic for the Crisis Center of Tampa Bay's community paramedicine program. The Florida based organization launched this new program in 2018 through the support of the Florida Blue Foundation.
The Patient-Centric Architecture enabled by the HealthCall Care Delivery platform is specifically designed for providing highly diversified care in the most challenging environments. Unlike other products which are based on an episode of care, HealthCall is built on a patient-centric data model.
Continuum of care (vs Episodic)
Ongoing patient interactions and encounters are documented within one longitudinal record vs. separate incident reports. By relating all of the data directly to the patient, paramedics and care team members can make better more informed decisions at the point of care as well as proactively identify critical changes in key signs and symptoms over time. HealthCall enables this continuum of care in several ways.
Prior answers to specific types of assessment questions are displayed in realtime, for example, all blood pressure readings. Each answer is date-stamped along with relevant notes.
A more extensive view of information is provided within the Status Page. Prior answers and trending can be viewed in tabular and graph formats. Graphed data can be visualized with baseline, upper, and lower limits.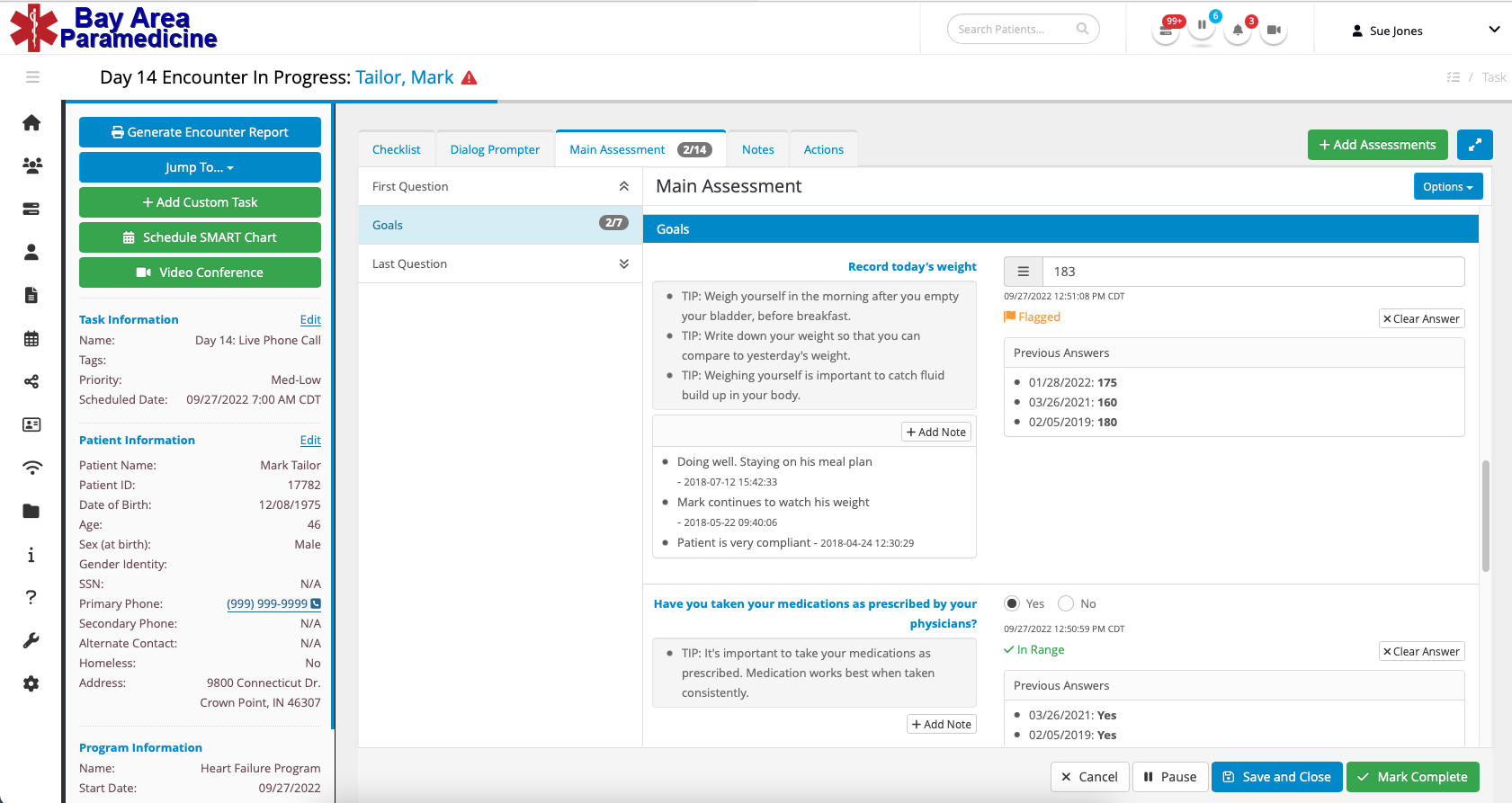 HealthCall enables an unprecedented level of versatility in documentation through the use of HealthCall Programs and SMART Charts. Providing diversified care in the field presents unique challenges every day. SMART Charts frees those on scene to maximize their experience and expertise to document all of the important and relevant issues at the point of care. Quickly and easily choose from a wide range of clinically validated and standardized assessment tools such as the PEAT Scale, DAST-10, Frail Scale, PHQ9, CAT Questionnaire, and more.
SMART Charts can also include custom assessments to collect important clinical data, such as specific vitals or Head-to-Toe, as well as administrative information like Time Tracking and Community Referrals.
Download the SMART Charts Sales Sheet
"HealthCall is the only real solution we found that allows us to do all that we do and document that way"
The Integrated Encounter Management guide supports the ability to store and access assessment and diagnostic tools related to patient evaluation. At any time, each patient's full history of assessments and diagnostic information can be viewed. Assessments can be viewed individually with the Encounter Manager (see video below) or via the Status page within the context of the patient's other assessments. The Status page also displays graphs of all numeric data (i.e., weight, blood pressure, pulse, etc.). Seeing patient data displayed together chronologically enables the visualization of trends and outliers.
"We have very limited communication modalities in offshore medicine, and the medium that connects our medical team to these rigs in the Gulf is HealthCall"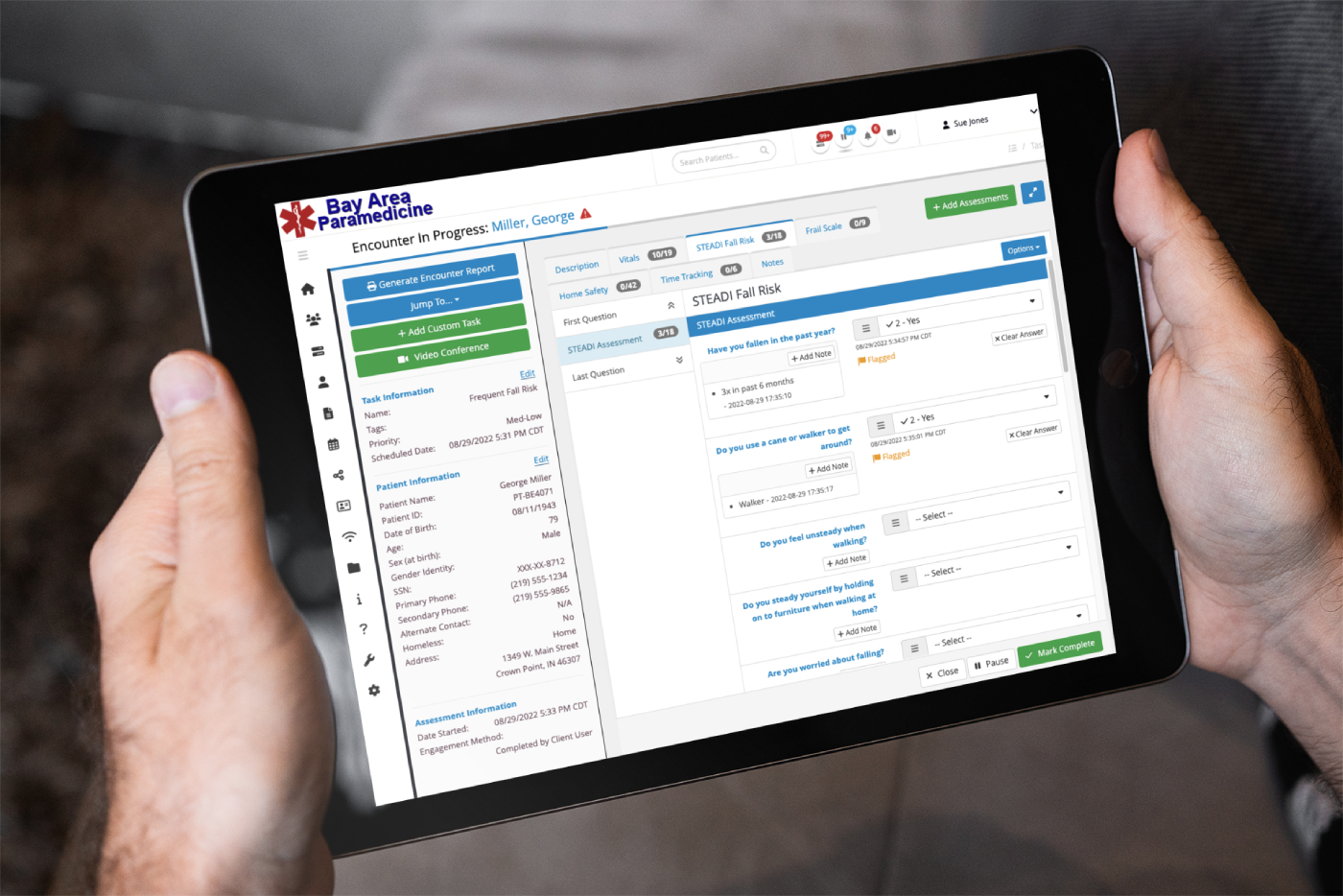 Explore how the following fully integrated services enable better care for more people in less time.
Care Network
Task Collaboration
Call Center Tools
Care Plans
Task Manager
Telehealth Video
Decision Support Tools
Workflow Management
SMART Charts
Clinical Status
Medication Record
History ICD10
Robust Notes
Document Management
Goals Tracking
Patient Portal
APR Assessments
Remote Patient Monitoring RPM
Health Literacy
Live Transfer
Universal Device Support
Telehealth Video
Patient Portal
ANSWERS® Wellness Programs*
Behavioral Health*
Breathe Easy*
Diabetic
Heart Health*
High Utilizer Group* (HUG), High Risk Care (HRC)
Joint Replacement:
Non-Invasive Ventilation (NIV)*
PAP therapy, certification, resupply
Pregnancy Program, High Risk
Resupply*