City of Las Vegas Partners with HealthCall to Care for Homeless
New 500-bed Cashman ISO-Q facility opens in Las Vegas screening and caring for homeless with coronavirus
The City of Las Vegas has partnered with HealthCall and NurseCore to train staff and operate a 500-bed temporary hospital at Cashman Center; created to screen and care for homeless who may have coronavirus.
 To date, the ISO-Q facility at Cashman Center, located only a couple of miles from downtown Vegas, has already taken in 12 patients. More are expected, as providers go out into the streets of Las Vegas and to homeless encampments to inform individuals about the free health care screenings now available. The field hospital will include quarantine and monitoring, as well as three sections: patients who are isolated and confirmed positive for coronavirus; patients who are isolated because they have symptoms but have not yet been confirmed by testing; and patients who were exposed to coronavirus but may be asymptomatic and waiting for testing. Measures will be taken to reduce viral transmission between providers, nurses, and patients.
This ISO-Q facility dedicated to the homeless, which is among the first in the U.S. during this outbreak, will also be equipped with sanitation and infectious disease control measures, such as incoming patients having their clothes fumigated and cleaned. Moreover, incoming patients
will be offered showers and meals.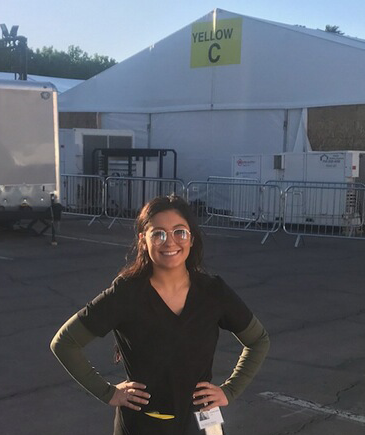 NurseCore, a national leader in home nursing care and medical staffing, will be using HealthCall's new COVID-19 screening and biomedical monitoring application, which was launched in March as paramedics across the country faced a growing number of coronavirus-related calls. The application is completely web-based, and staff from NurseCore were trained on how to use the new software tools last week. In addition to a coronavirus-specific questionnaire about symptoms, nurses also collect data on patients' vital signs, including blood pressure and heart rate. All data is encrypted and can then be shared securely with regional hospitals if a patient is referred to additional care at another facility.
"We'll be doing all of our charting through HealthCall, which has been customized for our needs here and is offering us a very innovative way to care for this population,"
Onsite coronavirus screening takes some of the pressure off of regional hospital emergency rooms. Seamless care is critical, as more homeless are expected to arrive for screening, evaluation, and monitoring of care, Bruesehoff explained. The City of Las Vegas contracted with NurseCore to provide care at this field hospital for one month.
"It's a safe place for the homeless to come and know that they'll be taken care of," said Bruesehoff. "The homeless are vulnerable, more likely to be immuno-compromised, and while they don't travel, they live in clusters, and our concern is that people can be carriers without knowing they have coronavirus."
The City of Las Vegas chose HealthCall for their community paramedicine program. Now they are turning again to HealthCall to work with NurseCore in helping screen and provide ongoing care for their homeless population for coronavirus. The United States has been hit hard by a coronavirus, with approximately 666,720 confirmed cases, more than 33,000 deaths, with much of the outbreak unfolding in the greater New York metropolitan area. The State of Nevada has more than 3,300 cases and more than 140 deaths.
 "We are partnering with communities nationwide who are struggling with the coronavirus. The bright side of this ordeal is working together to provide the best care possible," said Daniel Hayes, founder, and chief executive officer of HealthCall. "Safe and accurate screening, monitoring, and care coordination are all critical to mitigating the effects of this pandemic."
NurseCore is a national leader in home care services and medical staffing operating across the country with 22 offices located in 7 states. NurseCore is committed to exceeding the expectations of its patients, clients and employees through ethical and professional conduct, the provision of compassionate nursing services and leadership in the medical staffing and home care services industry.
Gay Kelley
gay.kelley@nursecore.com
(817) 575-1135
Sara Bruner
sbruner@healthcall.com
(219) 476-3462