HealthCall Adds Another New Tool for Addiction Recovery
New tool helps assess key resources available to aid addiction recovery
We interviewed Elizabeth Bowen, PhD, about her work on a new tool to help people who are recovering from alcohol and drug addiction: the Multidimensional Inventory of Recovery Capital (MIRC). We talked with Bowen about what led her to consider Recovery Capital as a framework, the nature of the questions her team included in the MIRC, how they used real-world experience to ensure they were serving as diverse a population as possible, and her hopes for how the MIRC will be used.
Elizabeth Bowen is a researcher, a Doctor of Social Work and an associate professor with the University at Buffalo. She was the principle investigator on the project developing the MIRC, which was funded by a grant from the National Institute on Alcohol Abuse and Alcoholism, and which released in May 2023.
HealthCall has added the MIRC to their directory of standardized and validated SMART Chart assessments. "We refer to these as 'SMART' in part because they are augmented with automated scoring, decision support tools, and predictive modeling when appropriate. These innovations help save time, reduce errors, and quickly reveal trends and anomalies making assessment tools usable in mobile integrated health," said Daniel Hayes, HealthCall president and CEO. "Now, first responders and multidisciplinary teams can use these in the field to help people and connect them with the resources most appropriate to their needs."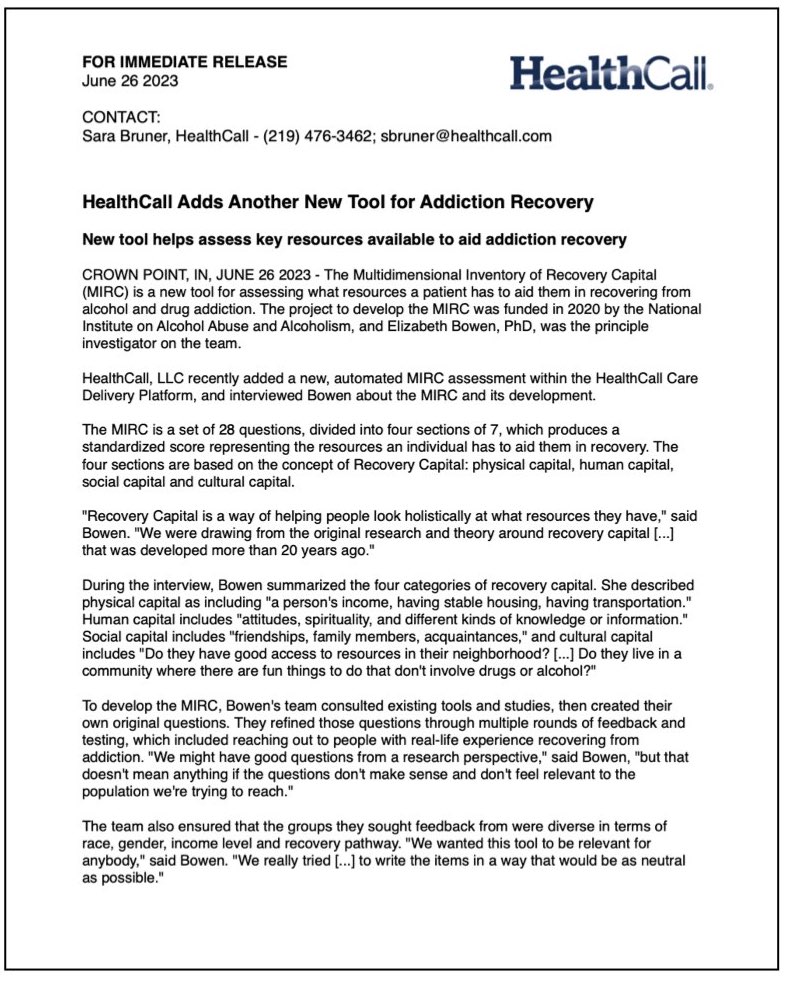 The MIRC recovery capital assessment is available now for HealthCall clients at no additional cost.
Download the press release here