The Critical Factor to the Success of Your MIH Program
Mobile Integrated Healthcare
Paramedics working with the Health Department and Police in Co-Response Teams discuss this critical factor for expanding mobile integrated health services to provide better care.
As Mobile Integrated Health (MIH) has evolved to consider more facets of patients' physical, social, and mental well-being, it has become clear that strong partnerships are essential for successful proactive care. Patients may require a variety of resources to address their needs and receive the most appropriate care. By partnering with
government agencies, mental health clinics, homeless shelters, and more, Mobile Integrated Health Programs can address far more of those needs than would be possible alone. Collaboration through partnerships including the patients creates a strong rapport that leads to a clearer picture of that patient's needs. In Alachua County, Florida, Gainesville Fire Rescue has learned this lesson well, and their Community Resource Paramedicine (CRP) program has leveraged its partnerships to become an inspiring example to the communities around them.
One of Gainesville Fire Rescue's CRP program's key partners during the COVID Pandemic was the Alachua County Health Department. "I believe they reached out to us because they knew what we were doing as far as going to see patients in the home and what our success was with that," says Ketshia Robillard, lead Responder with the CRP program's Chronic Disease Management Pillar. "They wanted to mobilize us in a different way that was still reaching the community and pushing out some of the COVID tests, COVID vaccines and COVID therapies for those who needed it the most, specifically our patient populations: individuals experiencing diabetes, hypertension, and those who were at risk for developing worse conditions if they were to contract COVID."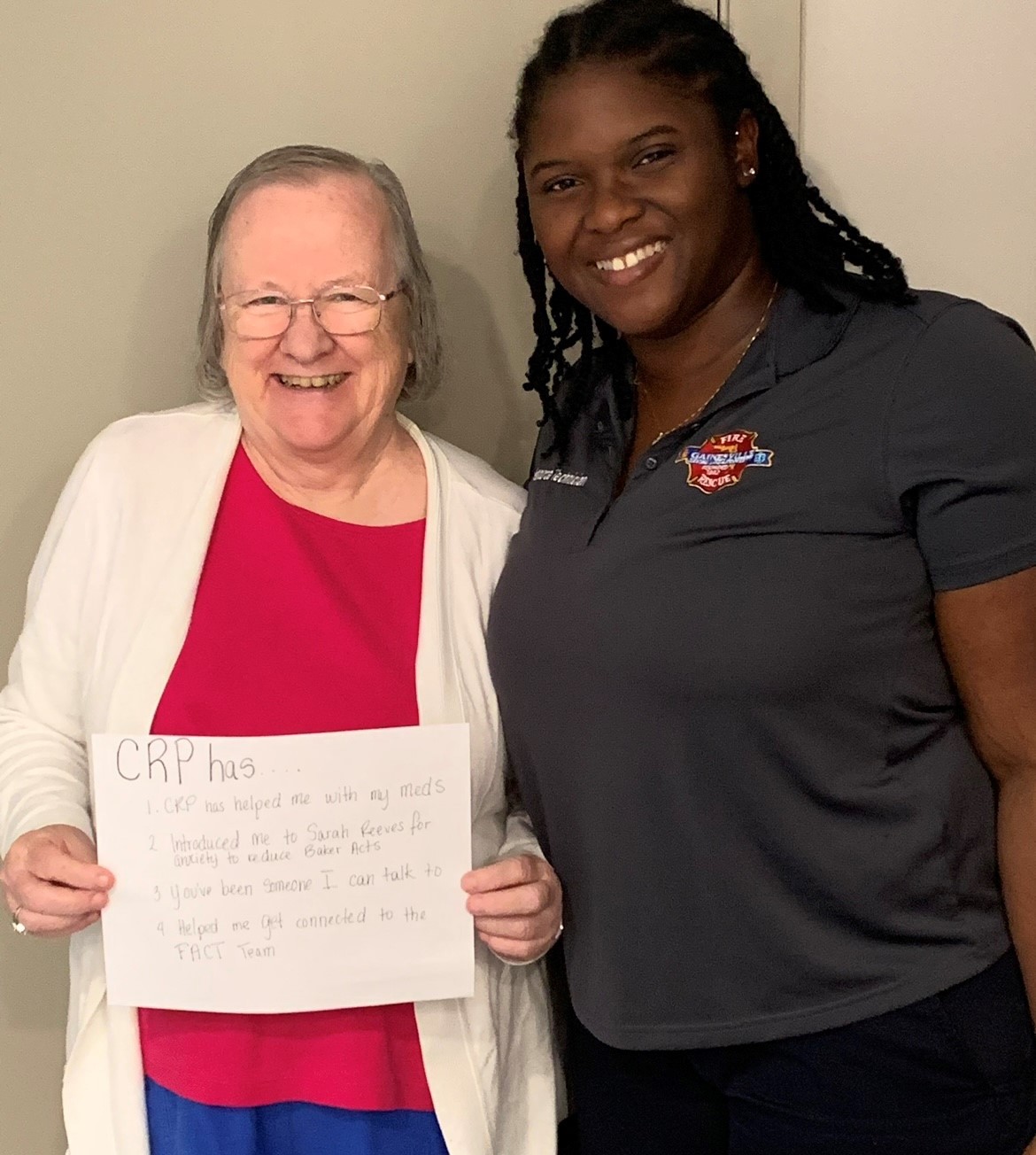 A Community Resource Paramedicine (CRP) client shares her gratitude with Ketshia Robillard, the lead responder, for assistance with medications, connecting them with community resources, and providing an empathetic ear.
"The success [of that initiative] has elevated how we partner with the health department as a city," says Brandy Stone, Community Health Director with Gainesville Fire Rescue. "We've been involved in the community health assessment process at the county level."
Gainesville Fire Rescue's CRP program also partners with Co-Response Teams (CRTs) from the Gainesville Police Department, the Alachua County Sheriff's Office, and the University of Florida Police Department. CRTs specialize in mental health and substance use crises, pairing a master's-level mental health clinician with a Law Enforcement Officer certified in Crisis Intervention Training. "We [have] a lot of shared referrals," says Krista Ott, CRP Program Coordinator. "We're seeing a lot of high utilizers on the fire side that overlap with the law enforcement side as well, especially when we're looking at our substance use and our behavioral health patients." This partnership is especially beneficial when the CRP team tries to help someone into a detox, or a recovery program: the CRP team's Paramedic focuses on the person's medical needs, while the CRT's mental health clinician assesses their mental state. The Law Enforcement Officer provides the technical knowledge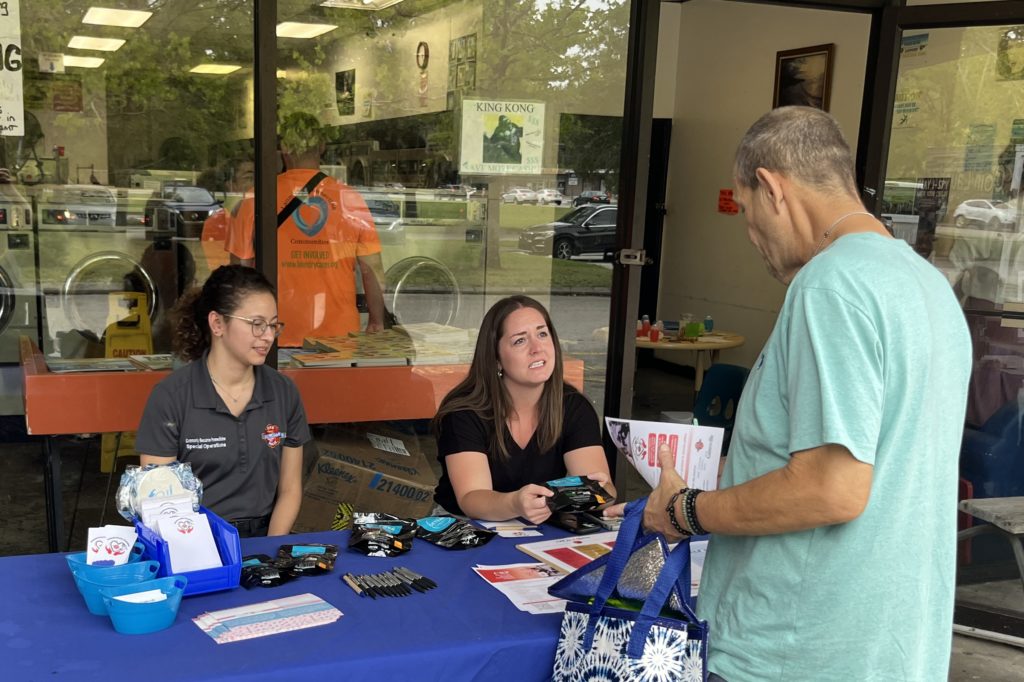 and ability to enact Baker Acts or Marchman Acts when necessary, understanding that the overall goal is voluntary treatment whenever possible.
However, while a CRT specializes in crises, the CRP program aims for long-term support: as Responder Robillard says, "We're the marathoners, not the sprinters." For that, they need to partner with the patients themselves. "We try to build rapport with our patients," Robillard says, "because we find that when the patient feels they have more trust in us, they are more willing to listen to suggestions we might provide."
One way to establish this rapport is to make sure they're available: when a patient has transportation issues the CRP team brings care to them, and when a patient has a problem outside of office hours the CRP team makes sure there's an after-hours phone line for them to call. Another way is simply by listening: "We do that a lot of the time," Robillard says, "just sitting there and listening to them, hearing what they have to say and asking them what they want from the program, what goals they want to accomplish for themselves instead of telling them what they should do."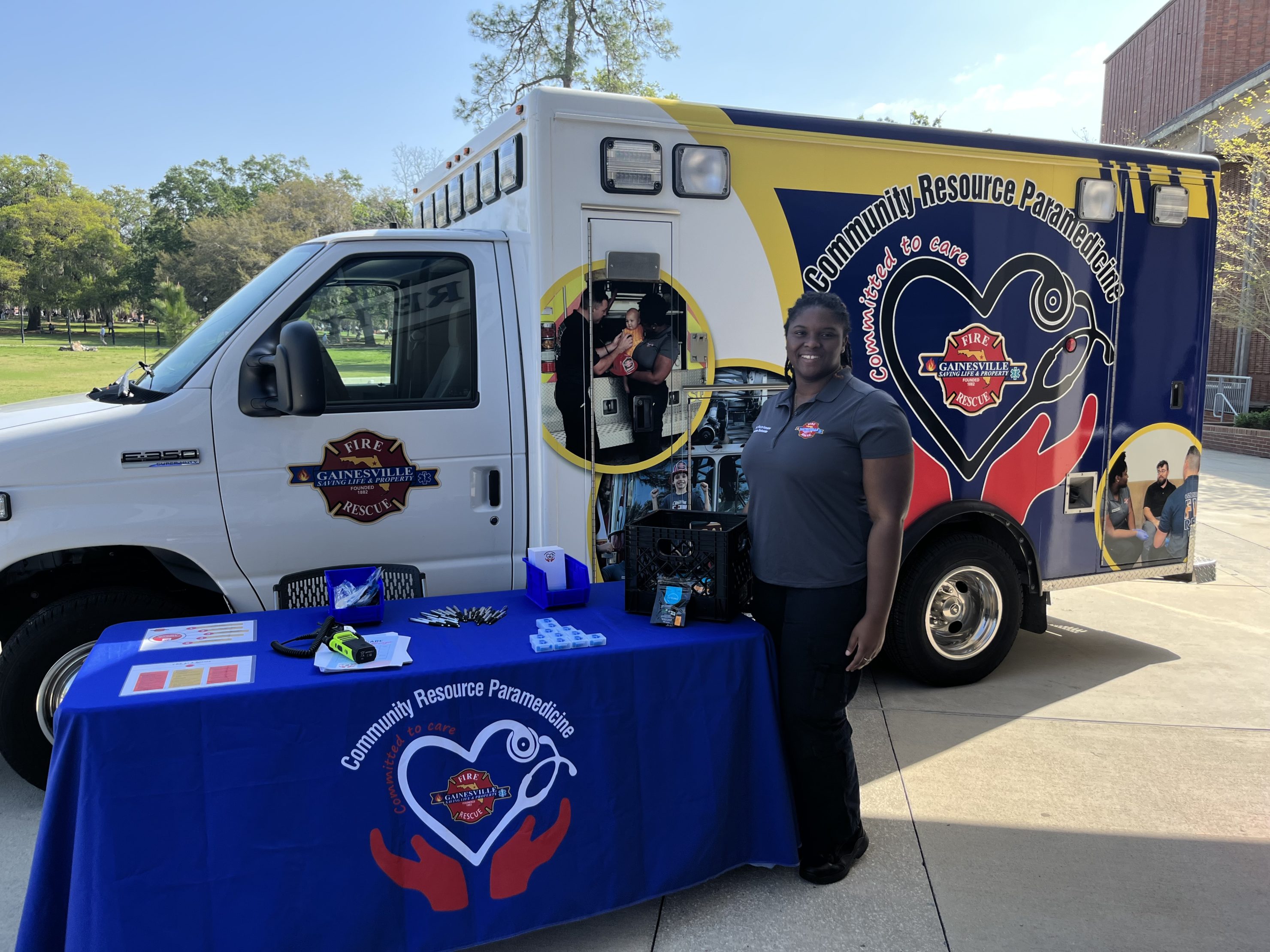 In order to help patients achieve their goals, the CRP program has also built relationships with organizations throughout Gainesville: hospitals, homeless shelters, recovery centers and more. "For some of our patients who experience food insecurities or have issues with transportation or getting clothing," Robillard says, "we do provide some connection services that have been very instrumental in building rapport for a lot of our patients, especially the ones in our Homeless Outreach and Prevention [program] and our Recovery Response Team."
Of course, if all these partnerships are not properly managed, patients are at risk of falling through the cracks. HealthCall users, like Gainesville Fire Rescue's CRP team, have the ability to address this challenge using the HealthCall Care Network. Any Care Network Member – a police officer, a homeless shelter worker, or anyone else – can be assigned to a patient record in HealthCall, allowing the care team to track who is helping with a given case. For cases that require closer collaboration, Care Network Members can be given customized, secure access to patient information and reports. Healthcall users can also set up custom tasks and assign them to Care Network Members, receiving a notification when the task is marked complete. If a task is left undone, the team can easily find it on the HealthCall Task Manager and assign it to someone else.
Through all these partnerships, Gainesville has come together as a community to build itself up, and its example has been inspiring: "We get a lot of requests from areas around us about our program; how did we start it and how they can start one," CRP Coordinator Ott says. However, the CRP team at Gainesville Fire Rescue encourages others to start by collecting data about their community's needs and resources, and build their program and their partnerships from that. "In order for the team and I to do what we do," says Director Stone, "it's all about knowing what's going on in the community, what our partners are doing, what resources they have […] and being able to leverage that collective partnership and that collective power to serve the community in the best way."
Press contact:
Sara Bruner
HealthCall, LLC
+1 219-476-3459 info@healthcall.com
About Gainesville, FL Community Resource Paramedicine (CRP) program
The city of Gainesville is a hub of culture, education, and commerce for north central Florida. At 145,000 citizens, it is the largest city in Alachua County – but it faces challenges all too familiar to more rural areas, including mental health problems, homelessness, and substance abuse. In 2014, Gainesville Fire Rescue started its Community Resource Paramedicine (CRP) program to address these challenges.