Patient-Centric Architecture Drives Better Care
HealthCall's cloud-based platform is specifically designed for providing care beyond the walls of the typical healthcare setting. This challenging and changing environment requires greater degrees of flexibility in documenting, collaboration.
HealthCall is built on a flexible patient-centric data model enabling clients to consistently outperform national benchmarks for quality outcomes.
There are many unique advantages to the proprietary architecture, most important is how this architecture truly fosters better care.
Continuum of Care (vs Episodic)
Ongoing patient interactions and care coordination encounters are documented within one patient record vs. per episode documentation.
By relating all of the data directly to the patient, providers and paramedics can proactively identify critical changes in key signs and symptoms over time.
HealthCall enables a continuum of care in several ways. Prior answers to specific assessment questions are displayed in realtime. Each answer is date-stamped along with relevant notes.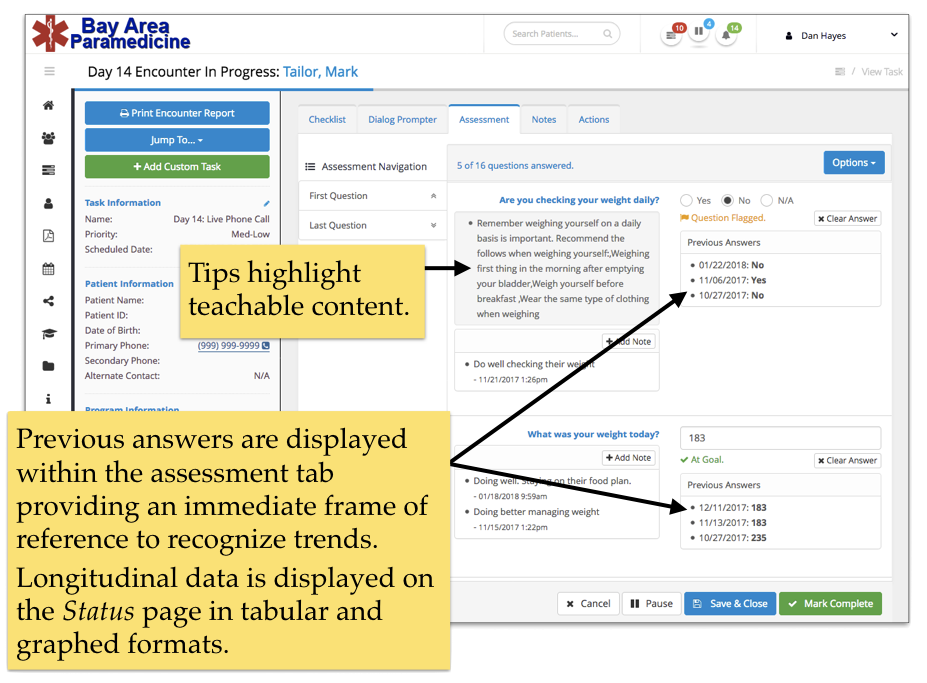 A more extensive view of information is provided within the Status Page. Prior answers and trending can be viewed in tabular and graph formats. Graphed data can be visualized with baseline, upper, and lower limits. At any time, each patient's full history of assessments and diagnostic information can be viewed.
Visualizing patient data over time enables the rapid realization of trends and outliers.
Individualized Care
Early on, HealthCall found that individualized care was critical yet subtle to both the patient's experience and to his/her outcomes. At the same time, successfully managing large populations required standardize care plans. The desired outcomes can be achieved for most patients by following standard care plans; however, outliers wouldn't achieve their desired results without customizing their plan of care.
For example, consider the case of a frail, elderly woman who weighs less than 90 pounds. The decision support tools within the standard care plan are configured to alert if the patient gains more than three pounds in three days. However, this woman's edema becomes critical at two pounds. This is easy to accommodate within HealthCall.
Care Plans can be quickly tailored as needed to accommodate co-morbidities, contraindications, and outliers.
Unlike other solutions, HealthCall does NOT have a practical limit on custom data elements (fields). HealthCall supports a nearly unlimited number of Programs, Care Plans, Assessments and database fields.
Along with custom forms, nearly all third-party standardized assessment tools can be seamlessly integrated directly within the HealthCall Encounter Management tools.
Shown is the PHQ-9 diagnostic tool (Patient Health Questionnaire-9). In most cases, assessment scores can be calculated programmatically.
Examples of other standardized assessment tools include:
COPD Assessment Tool (CAT)
Health-Related Social Needs Screening Tool (HRSN)
Brief Interview for Mental Status (BIMS)
Mini-Mental State Examination (MMSE)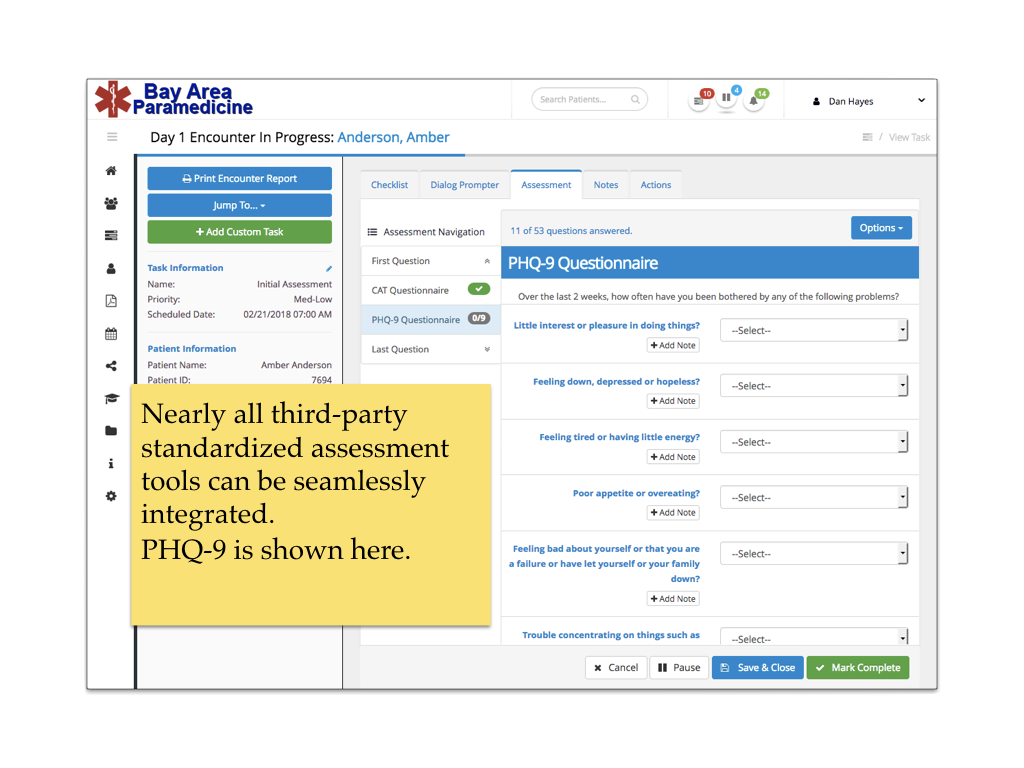 Assessment tools can appear within the navigation for quick access. The middle screenshot shows multiple sections.
Fostering healthier self-care behaviors may be one of the most important efforts in post-hospital care. HealthCall engages patients in the adoption of self-management skills through a system of education, coaching, and signs and symptoms monitoring. This leads to improved wellbeing, reduced burden on caregivers, and ultimately greater independence.
The same patient-centric architecture that enables individualized care enables more relevant education and personalized coaching.