Tools
Tools and Services Uniquely Suited to Your Needs
Interactive dashboard connects data and patients in real-time.
HealthCall interactive dashboards provide important insights and near real-time information, helping managers and care team members make better decisions about patient care. Easily customize the dashboard for monitoring a variety of quantitative and qualitative measures, along with personalized colors, labels, date ranges, and views.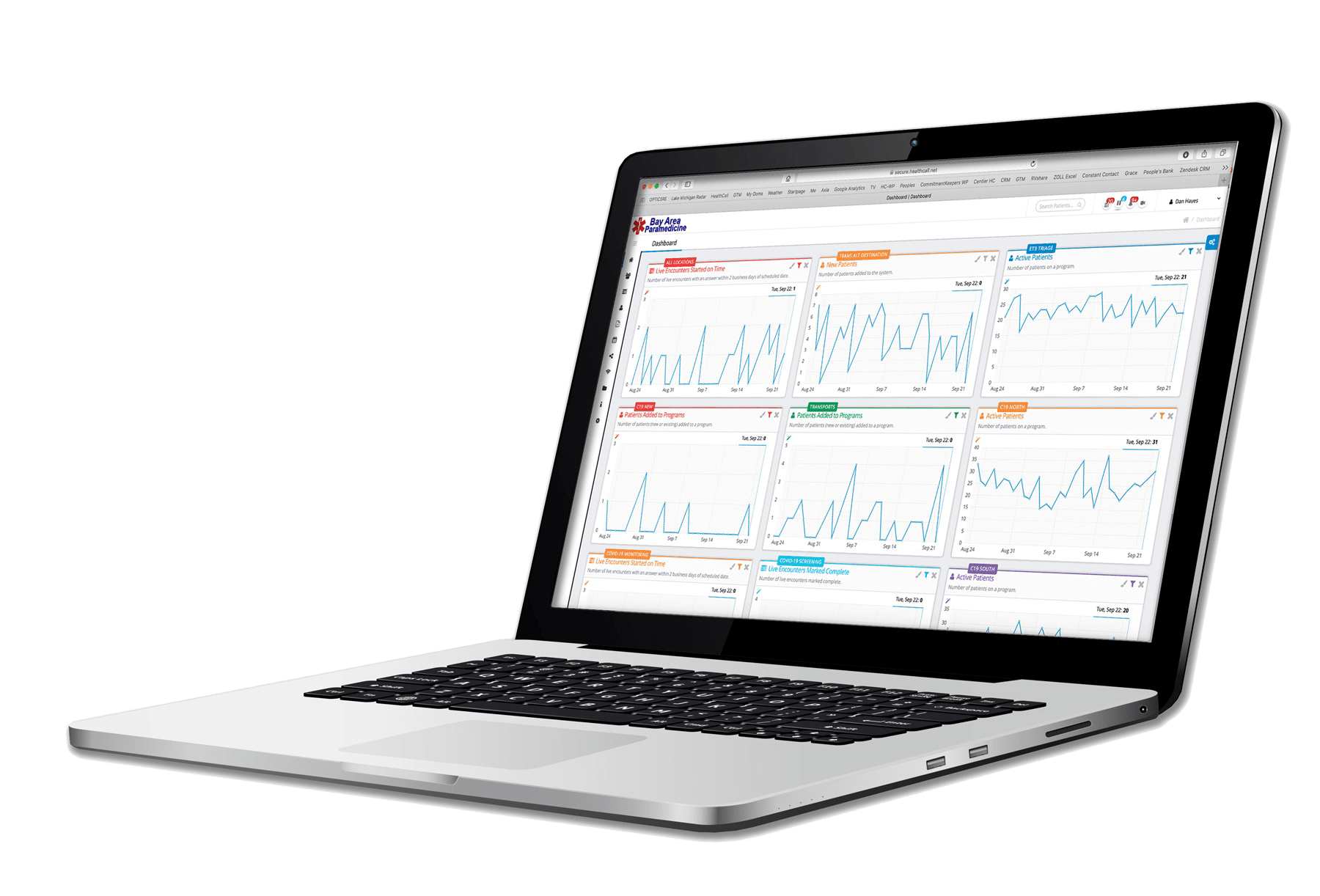 Interact directly with the visual dashboard by simply clicking on the graphs, drilling down to access multi-layered data and related patients instantly. This increased reliance on analytics takes the guesswork out of day-to-day operations that lead to quality outcomes ensuring a greater return on investment.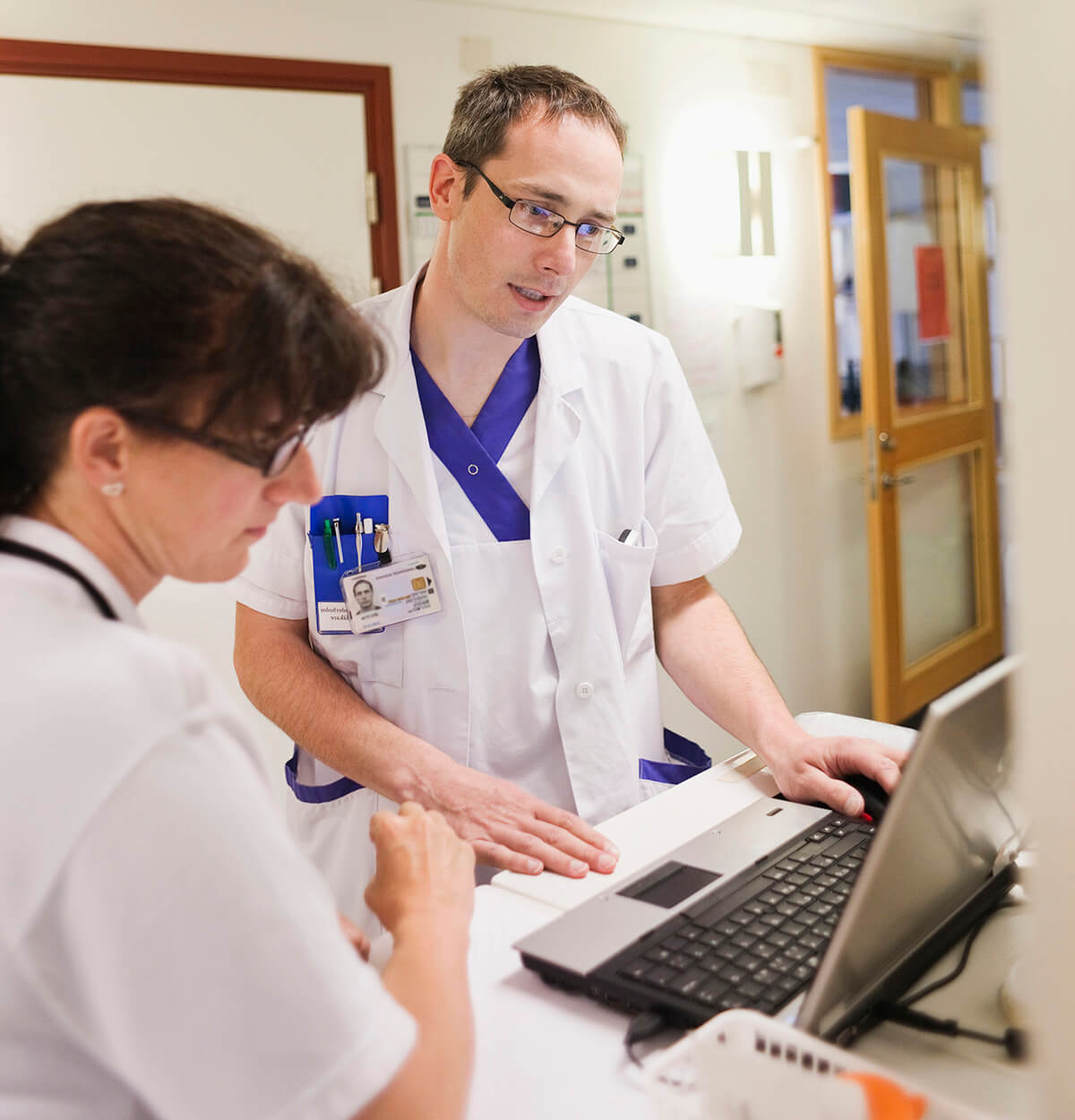 Dashboard Customizable to Your Needs
Detailed patient data in realtime
Create your own dashboard
Easily configurable to your preferences
Build-to-order custom dashboard widgets
Unprecedented Freedom in Documentation
Providing diversified care in the field presents unique challenges every day. SMART Charts frees those on scene to maximize their experience and expertise to document all of the important and relevant issues at the point of care.
Quickly and easily choose from a wide range of clinically validated and standardized assessment tools such as the PEAT Scale, DAST-10, Frail Scale, PHQ9, CAT Questionnaire and more.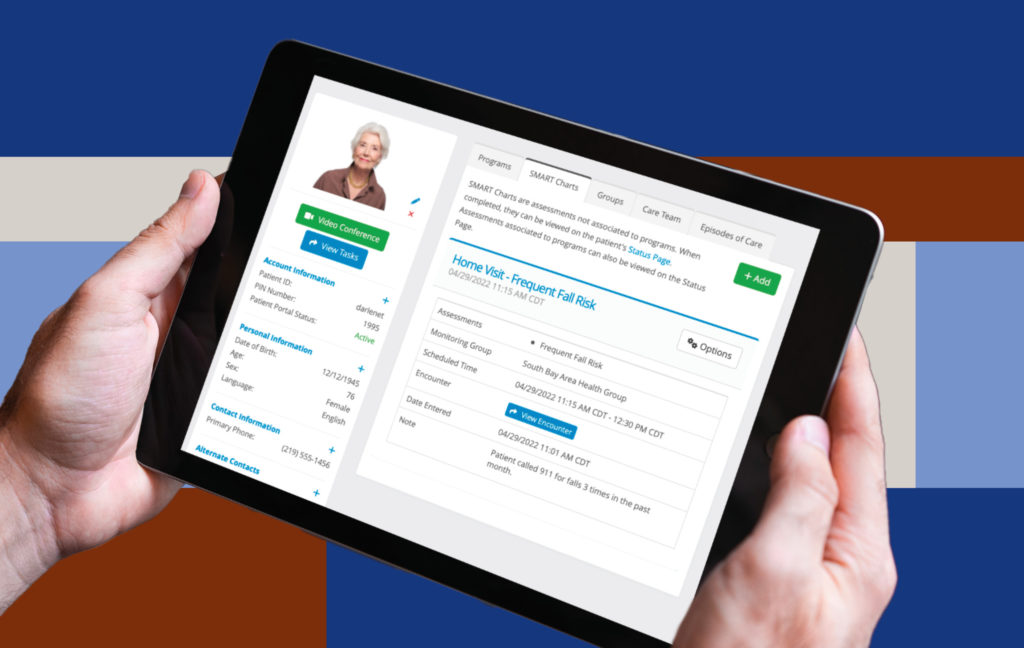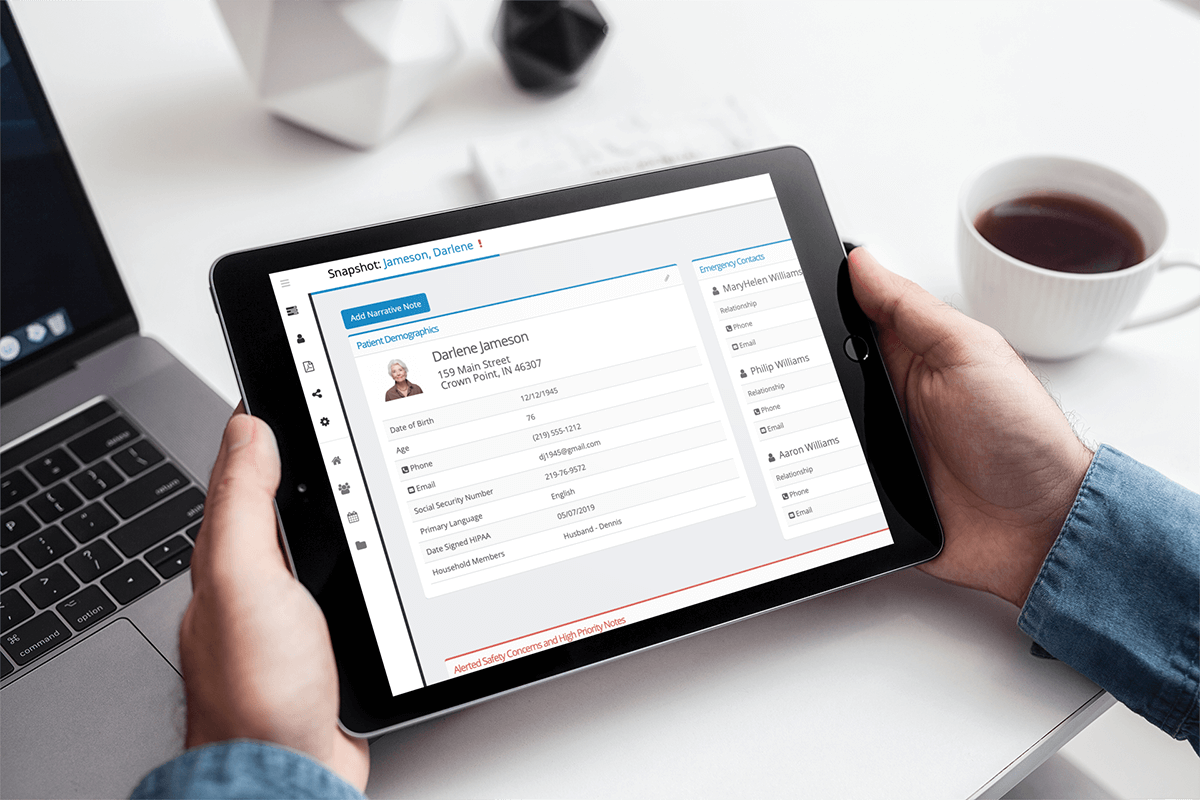 SMART Charts™ by HealthCall provide the fastest, most accurate and versatile way to chart patient care.
Standard SMART Charts such as STEADI Fall Risk, AUDIT-C, Columbia Suicide Screening and more
Custom SMART Charts for vitals, disease specific assessments, time tracking and referrals
Bundle assessment in groups to complete a collection of SMART Charts in one click
Complete on demand or schedule for a future visit, phone call or video conference
Empowering the new standard of flexibility in patient care documentation.
Document
SMART Charts by HealthCall – Sets of Multidisciplinary Assessments at the Right Time provide the fastest way to accurately document patient care in one system.
Versatile
SMART Charts empower care professionals to assess what they want and when they want to assess it with unprecedented versatility.
Flexible
SMART Charts are designed for use where flexibility is critical including mobile integrated health, community paramedicine, virtual care, post-hospital, chronic care, ET3 and providing alternate care for low acuity medical conditions.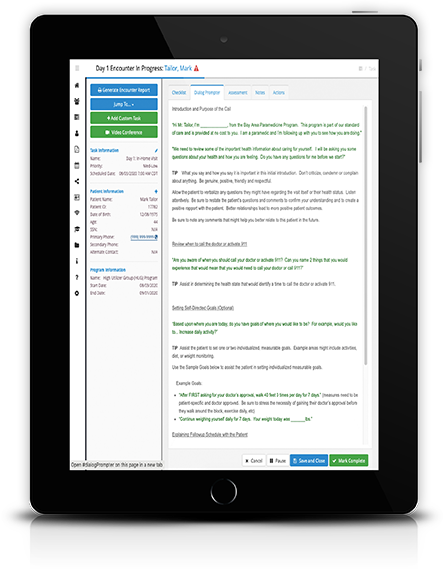 Intuitive charting and assessments. Superior outcomes.
HealthCall's Encounter Management tools streamline individual patient assessments while optimizing overall caregiver staff and resource allocation.
By providing real-time patient-response analysis and decision support, these tools improve the efficacy of patient encounters. Additionally, they allow for the monitoring and management of large, geographically dispersed care teams. This creates enhanced caregiver confidence, higher staff productivity, improved clinical outcomes, and healthier, happier patients.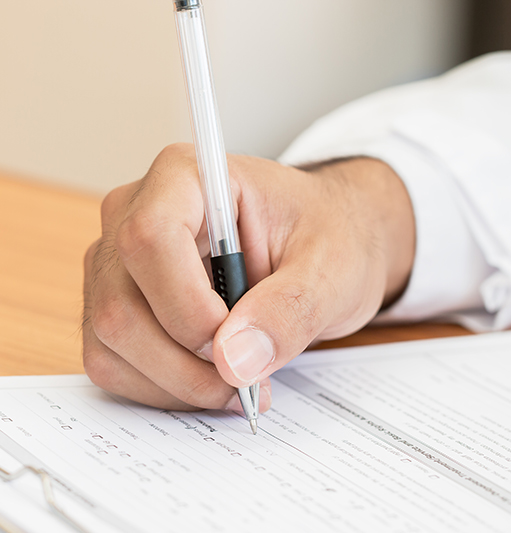 Streamline Patient Assessments through our Encounter Management
Reinforce continuity across and train and guide new staff
Over 3,000 health assessments questions customizable to your needs
Track team members activities and locations in real-time
Record live staff conversations for training
Easily accessible summaries for reporting, billing, and analysis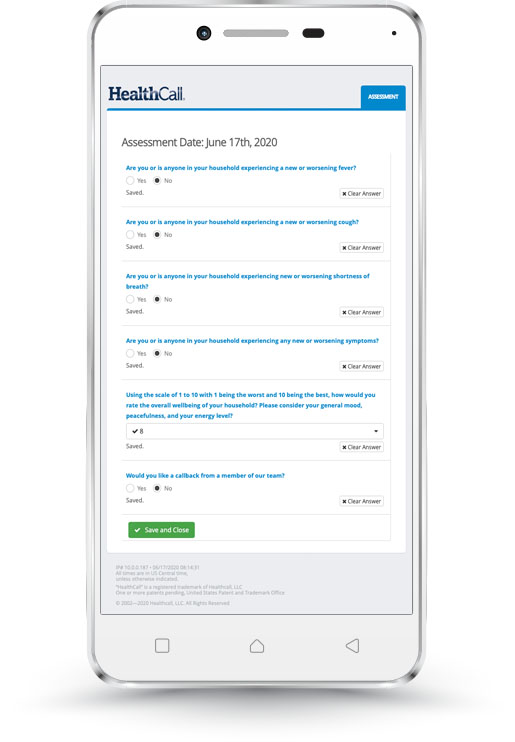 Build Unique Care Plans for Your Patients
HealthCall offers a comprehensive suite of Care Plans, each serving as a guide to following best practices in the care and management of a health condition for both the care team and the patient. Through a system of education, coaching, and monitoring of signs and symptoms, HealthCall Care Plans engage patients, promote self-management and healthy living, and facilitate increased collaboration on behalf of the care team and providers.
Care team members with appropriate access have the option to quickly and easily individualize Care Plans to meet unique patient needs. For example, providers can add assessment questions, add baseline measures, adjust decision support tools, change outreach schedules, and set communication preferences.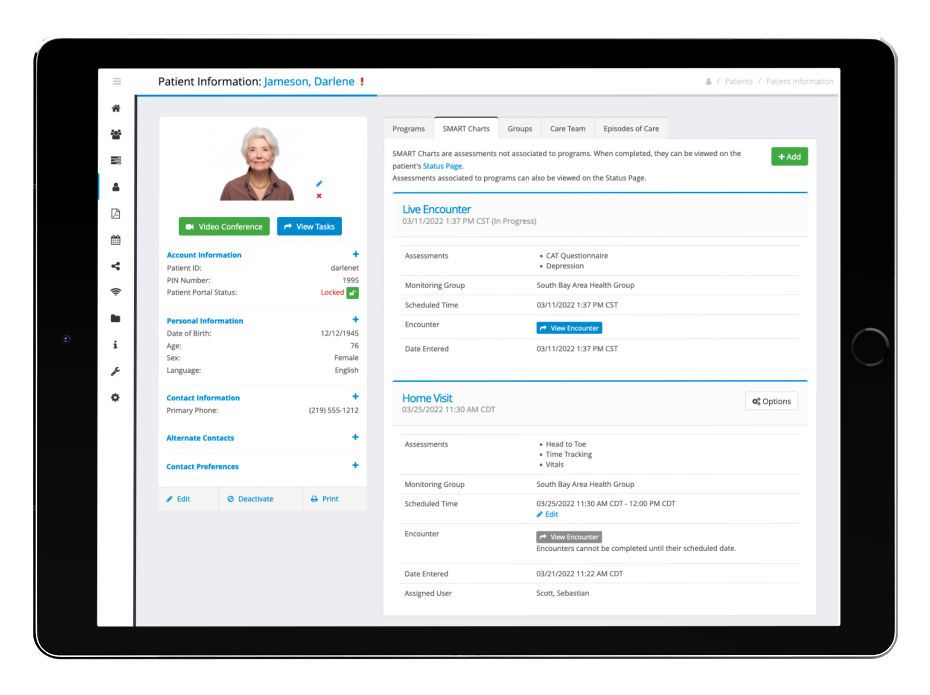 Sets of Multidisciplinary Assessments at the Right Time provide the fastest way to accurately document patient care in one system.
HealthCall SMART Charts are designed for use where flexibility is critical including community paramedicine, virtual care, post-hospital, chronic care, ET3, and providing alternate care for low acuity medical conditions.
Additionally, all data elements stored in HealthCall SMART Charts are accessible for searching, reporting, and securely sharing.
Diverse, Easily Individualized Care Plans
Modify as you need and embed your own care plans
Customize questions, support tools, timing, and follow-up
Create transparency and accountability for post-discharge care
Track what's most important in a patient's care plan
Know exactly where a patient is in their plan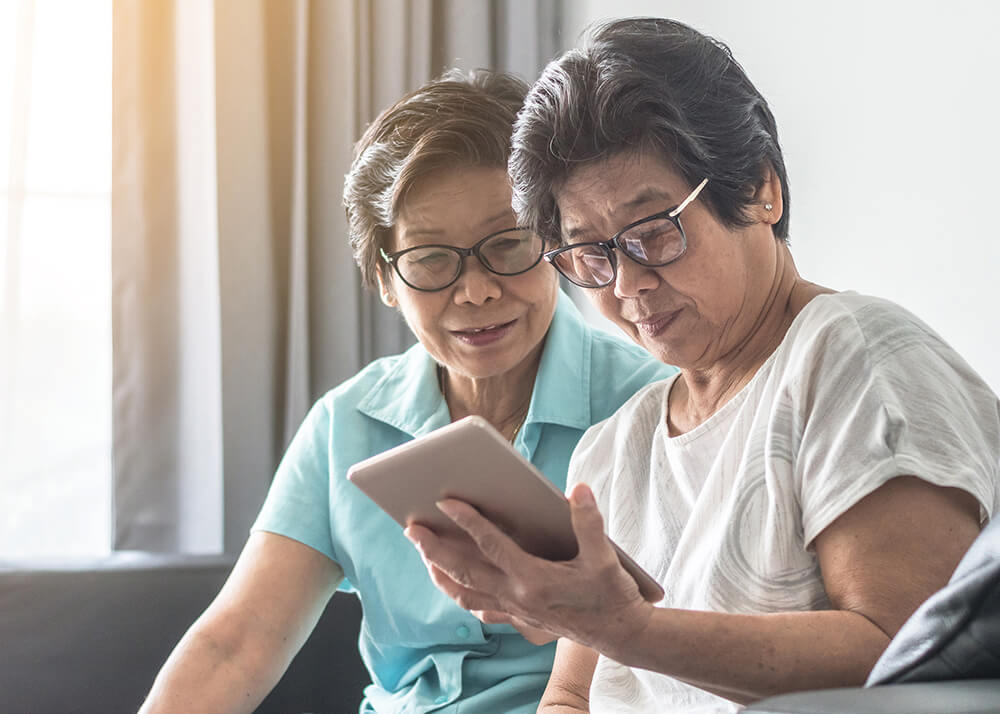 Remote Patient Monitoring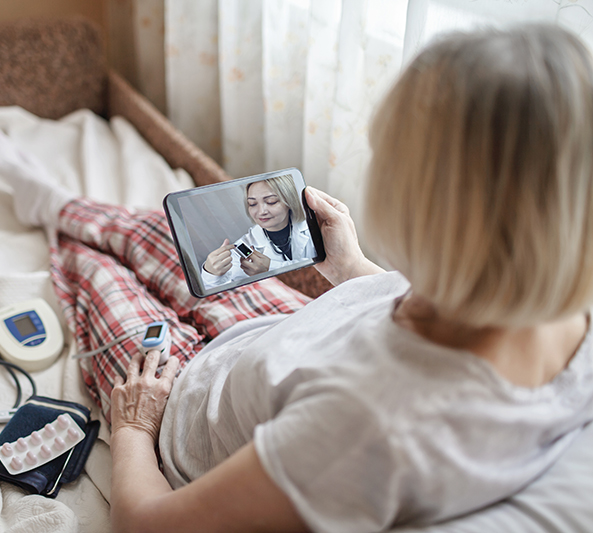 The patented HealthCall-APR™ system automates routine patient interactions and assessments while educating patients and encouraging healthier self-care behaviors leading to superior outcomes.
HealthCall-APR™ works as an extension of your care team enabling more proactive care for larger populations in less time.
This automated risk-based monitoring system follows up with each patient routinely via text, phone, and email, checking on new and worsening symptoms, key biometrics, and satisfaction.
HealthCall conducts thousands of automated APR assessments daily for chronic disease management, supply replenishment, patient satisfaction, appointment reminders, and insurance verification.
How it Works, in Four Simple Steps
The patient is contacted at prescribed intervals within their care plan—the patient can respond in a manner most convenient for them.
The patient answers a brief health assessment individualized by the healthcare team. Questions relate to key signs, symptoms, lifestyle, and adherence.
Data is stored and analyzed by the HealthCall decision-support tools.
Scores outside of the risk-based limits are identified for immediate intervention, and appropriate care team members are notified.
A full complement of Bluetooth-enabled devices is supported, including weight scales, blood pressure cuffs, pulse oximetry, activity trackers, etc. All modalities are linked and fully integrated with Care Programs. This easy-to-use system is transformative for healthcare providers across the country. See how it can transform the way your team delivers care.
Increase patient engagement with patented, proven automated patient response system
Integrate your APR with any of our care plans
Individualize assessments by patient as needed
Flexible alerting via customized notification tools
Seamlessly integrate Bluetooth Biometric devices such as scales, blood pressure cuffs, pulse oximetry, and activity trackers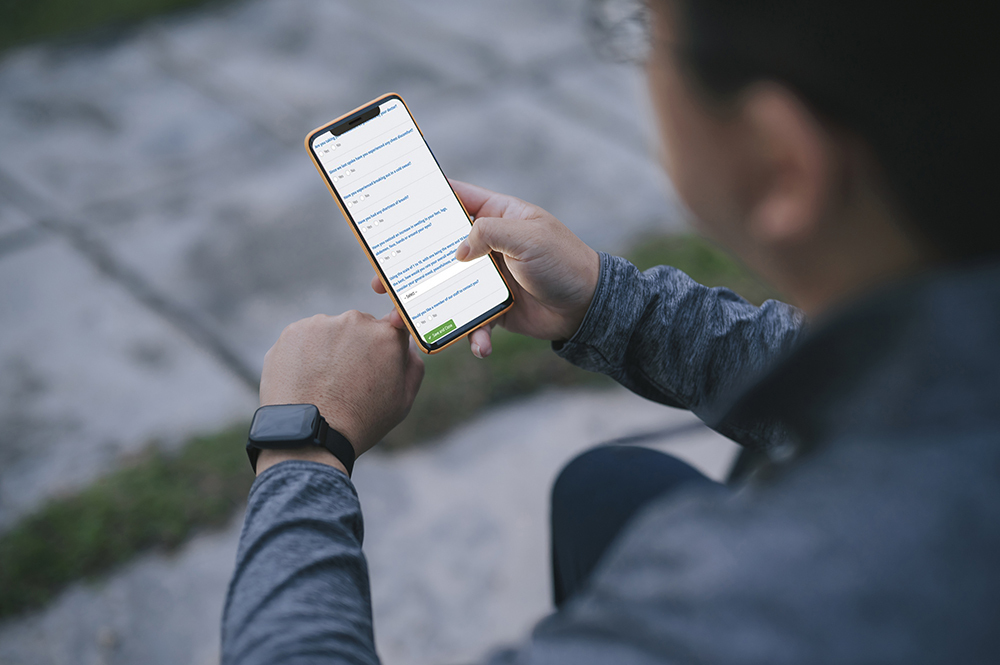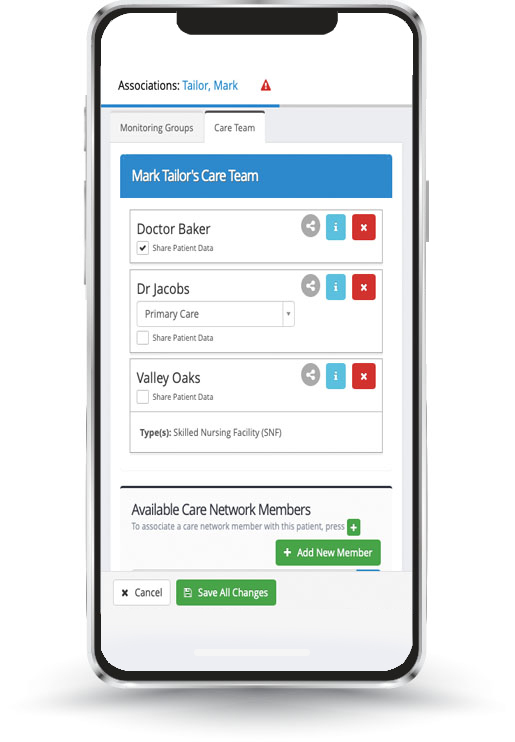 A True Team-Oriented Approach to Care
Like you, the HealthCall Care Network is about helping people get better, faster, and more cost-efficient care.
Break down the barriers that have traditionally separated communities with powerful Care Team Networks that members can access from any desktop or mobile device. Quickly and securely connect providers, specialists, charitable organizations, community resources, non-profits, and government agencies into patient-specific care teams.
Care teams provide individualized care specific to each patient's needs, safely and securely communicate with their members, and easily share information getting people the help they need.
Instantly Monitor the Progress of Referrals and Track Outcomes
Hospital enrolls patient in a post-discharge care program via HealthCall
HealthCall alerts care team members to needed care
Hospital receives real-time encounter and outcome reports
The patient receives better care!
Connected Care Coordination
Disparate systems, inefficient processes, and bureaucratic red tape along with privacy and security concerns can create roadblocks to better care. Working together in a HIPAA-compliant, cloud-based environment, the HealthCall Care Network ensures that only those users with a vested interest can view relevant and legally permissible information.
In real-time assessments are scheduled, action items are assigned, and reports are shared. The entire care team is connected and engaged — this enhances accountability, ensures transparency, and ultimately delivers a higher level of patient care.
Need to schedule transportation, arrange a meal, or deliver medical equipment for your patient? Now you can, quickly and securely.
The Care Network is one of the many ways HealthCall helps dramatically improve the lives of the individuals you serve while greatly decreasing the costs to the community.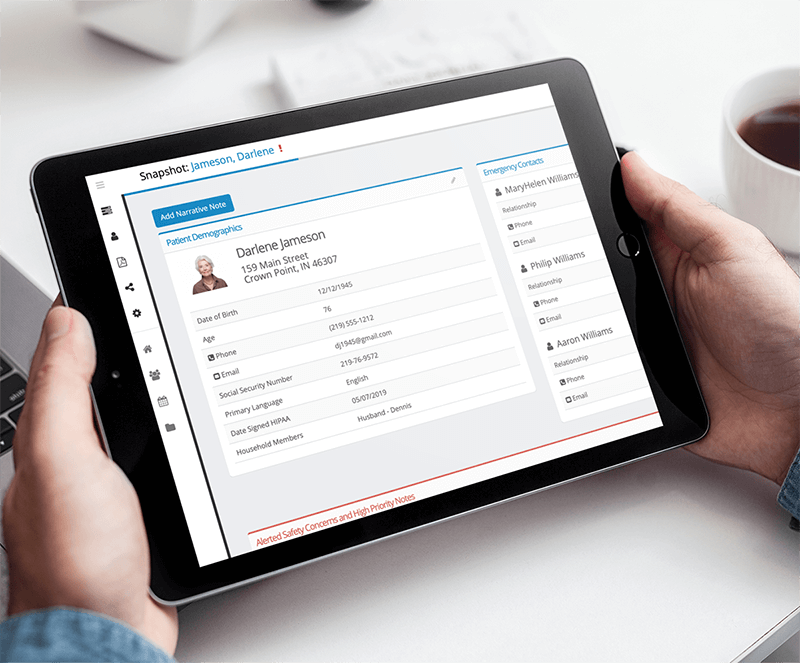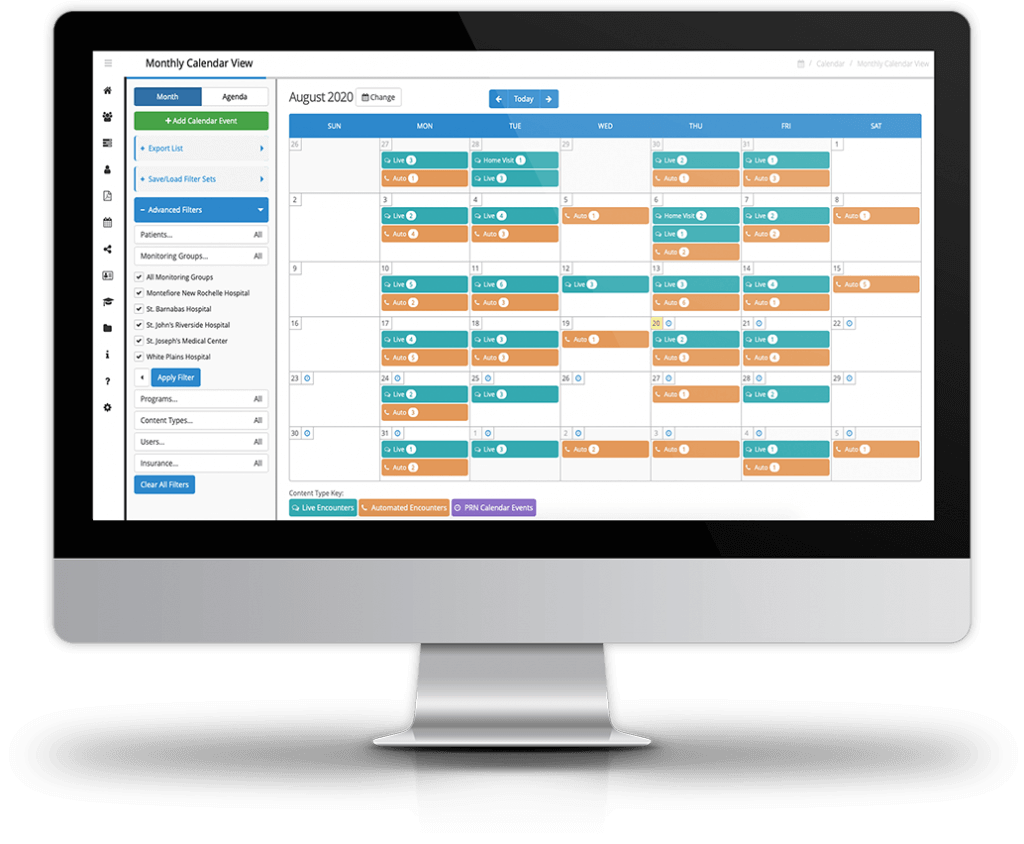 Orchestrate and Optimize Schedules in One Convenient Place
Schedule patient encounters, manage team productivity, and discover new efficiencies with the HealthCall Integrated Scheduling tool.
Managing large care teams—and the patients they serve—is a complicated task. HealthCall brings it together in one place, allowing you to easily link patients and care team members and identify opportunities to optimize resources. It's a win-win for care teams and patients.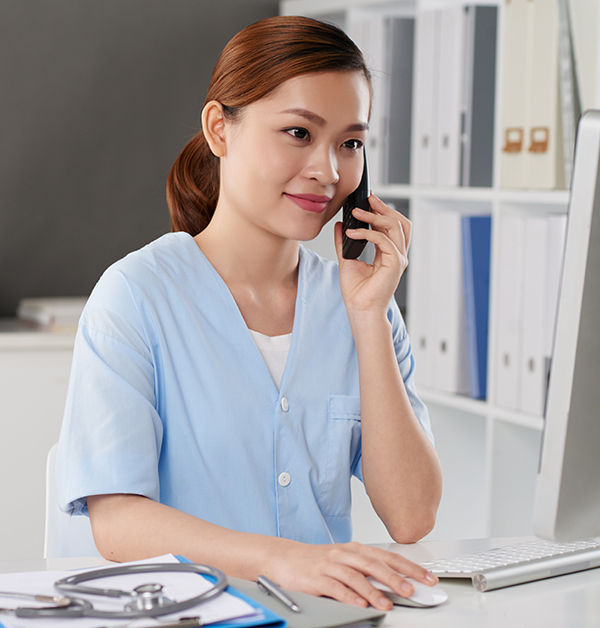 HealthCall Integrated Scheduling
Schedule patient encounters directly within HealthCall
Easily link patient and care team members
Optimize schedules for large care teams
Easily revise, edit, and update patient encounters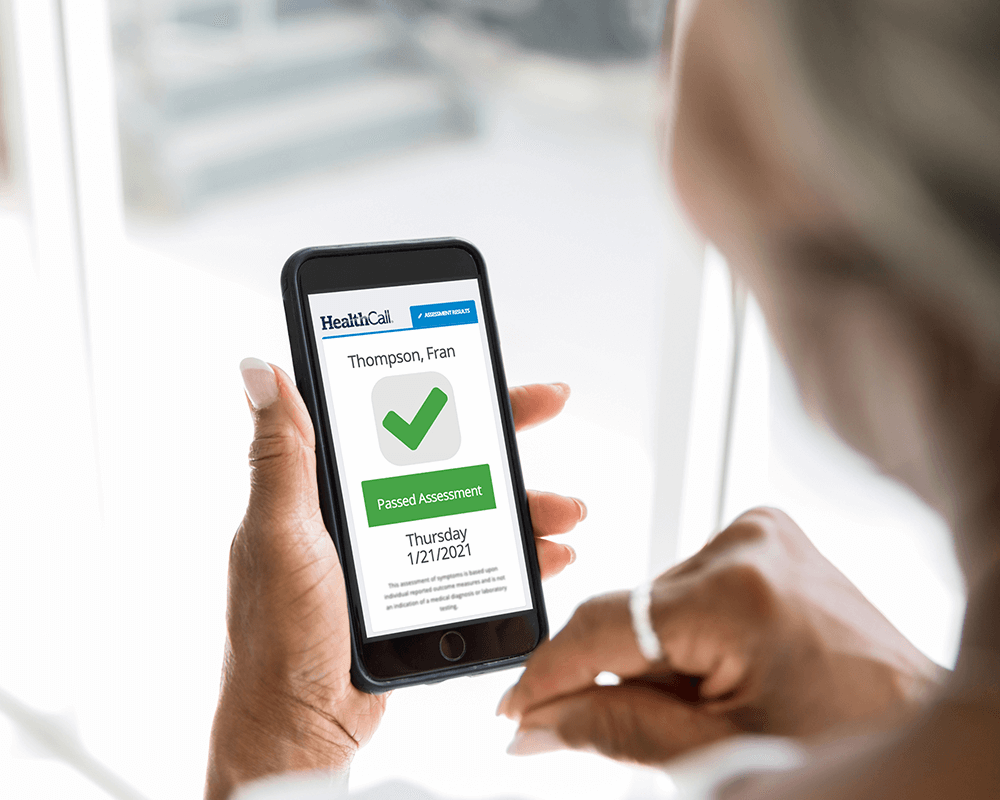 Preventing COVID-19 Infection
Automate proactive screening of frontline workers for key signs and symptoms to reduce contagion, promote wellbeing, and mitigate liability.
Daily monitoring helps identify those at risk, reducing the likelihood of infecting others. People with COVID-19 symptoms, for example, can then be remotely monitored via the HealthCall telehealth platform during their recovery and quarantine period.
Accessible via all popular smartphones, the patented HealthCall Automated Patient Response (APR™) system enables a highly scalable process to screen and monitor large workforces across multiple shifts and locations.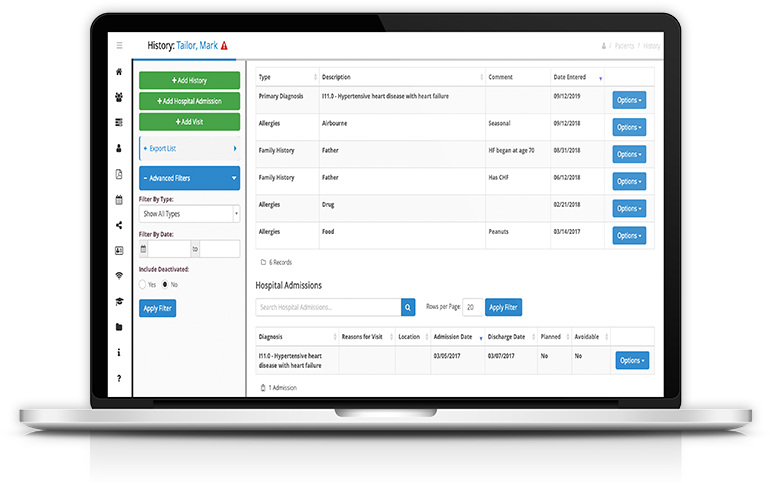 An intuitive electronic health record can be the key to success for efficient and effective patient care. HealthCall EHR functions are fully integrated with HealthCall remote care, APR health assessments, encounter management, and automated resupply.
Our Patient Health Record focuses on highly relevant clinical care.
Benefits of Our Patient Health Record
Access patient history including diagnosis, family history, allergies, medication, and healthcare utilization
Track patient blood pressure, weight, and activity measures
Manage patient medication inventory and reconciliation
Track immunization status
Manage supplies, equipment, and insurance status in real-time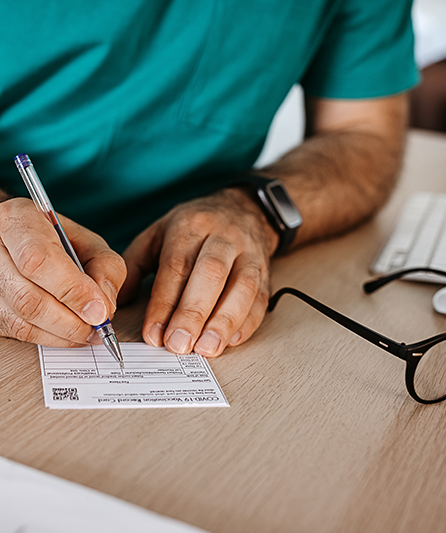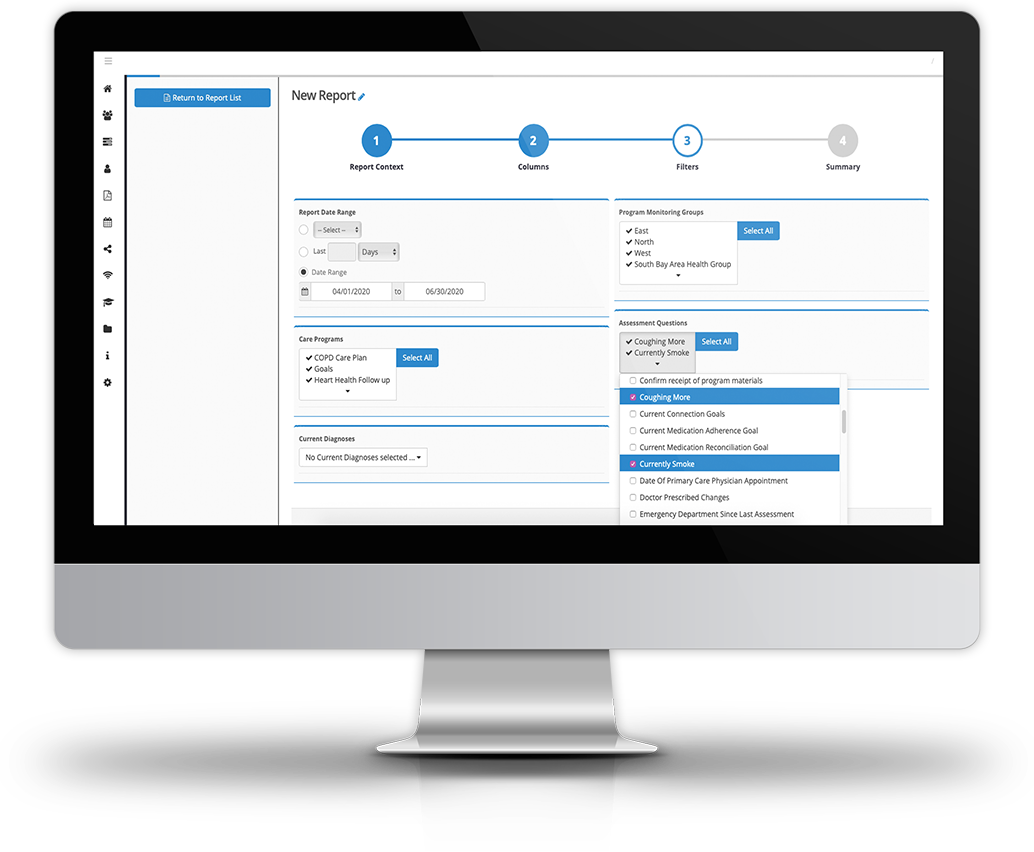 Make Data Meaningful with Powerful Reports
HealthCall tracks a wealth of patient data—and it makes it easy for care team members to transform that data into clear, actionable reports.
Our Report Generator's powerful and flexible interface allows your team to run reports on a variety of outcome measures, including readmission, length of stay, adherence, and more. It can also help identify trends in key performance indicators that lead to more effective care—and, ultimately, increased patient satisfaction.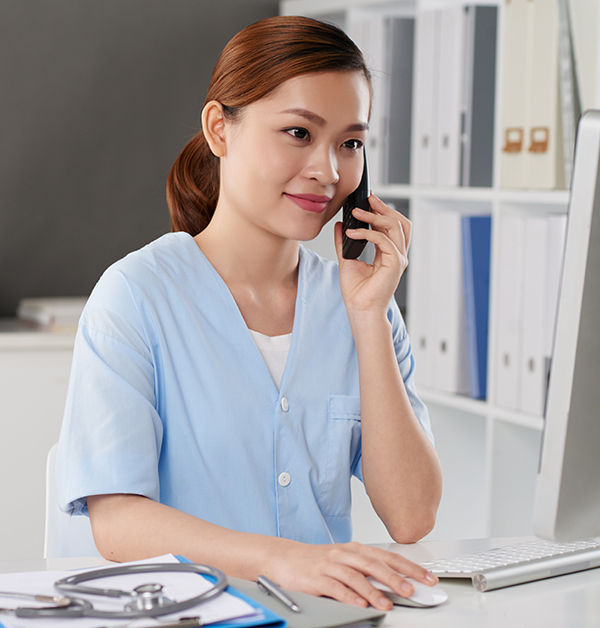 Benefits of our Report Generator
Create robust monthly reports showing data, trends, and more
Output readmission, emergency department, and observations unit data
Share data on patient length-of-stay, adherence, wellbeing, and satisfaction
Create detailed productivity reports and KPI reports on demand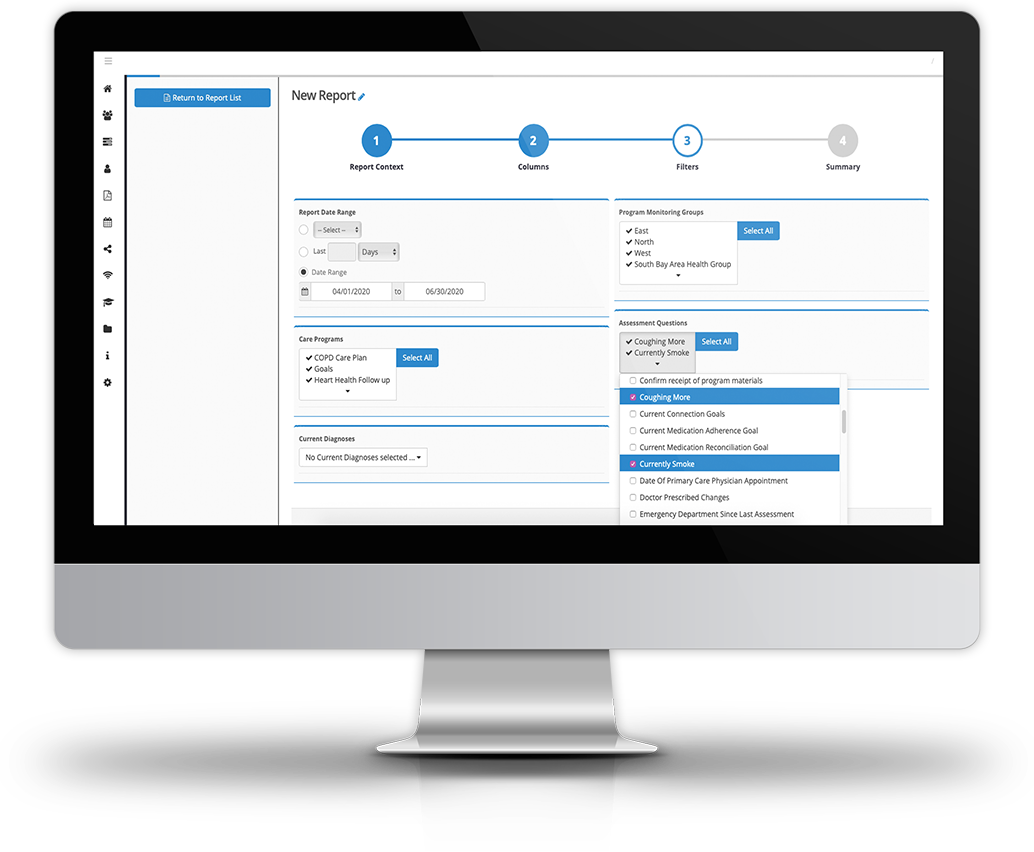 Built for Easy Integration
HealthCall's custom application program interfaces make it easy to integrate with other healthcare systems and applications. We've implemented hundreds of integrations over the years, including everything from simple flat-file exchanges to HL7 and real-time data exchanges.
In every case, our goal is to make HealthCall conform to the user's system and operations—not the other way around. We'll work directly with your IT and clinical teams to gain a clear understanding of your needs, limitations, and opportunities. Then we'll create a seamless integration solution that makes HealthCall a welcome addition to your existing system.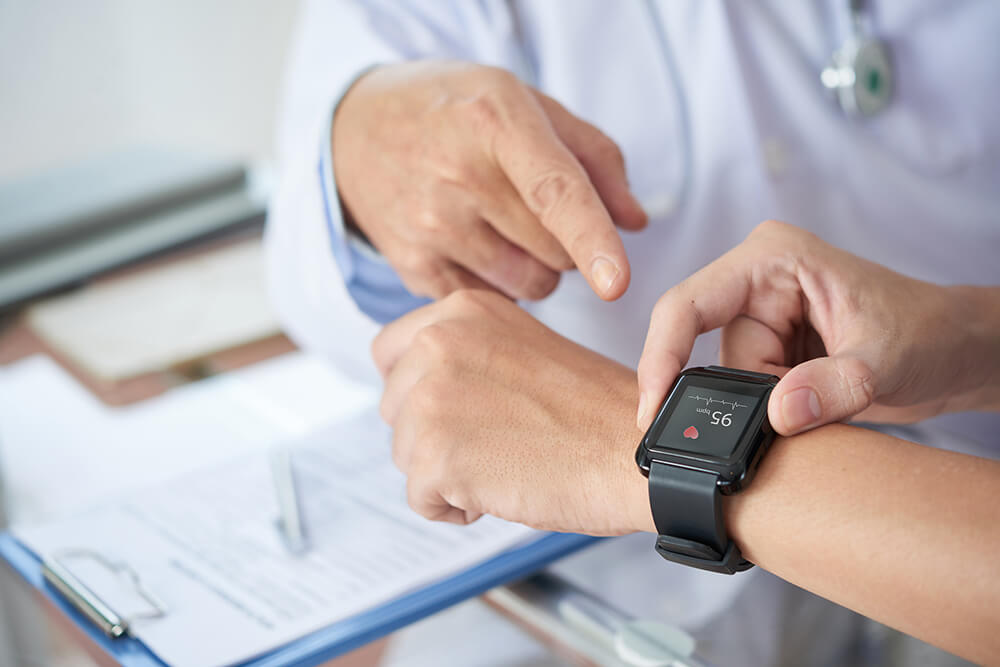 Benefits of our Integration Solutions
Perform multitudes of integrations, from simple flat file exchanges to HL7 to real-time APIs
Interface with virtually any EHR system and implementation
Let HealthCall create an approach that works for your clinical and IT teams
Import and export discrete data elements, custom data fields, and custom data sets as needed
Perform off-network, asynchronous data import and verification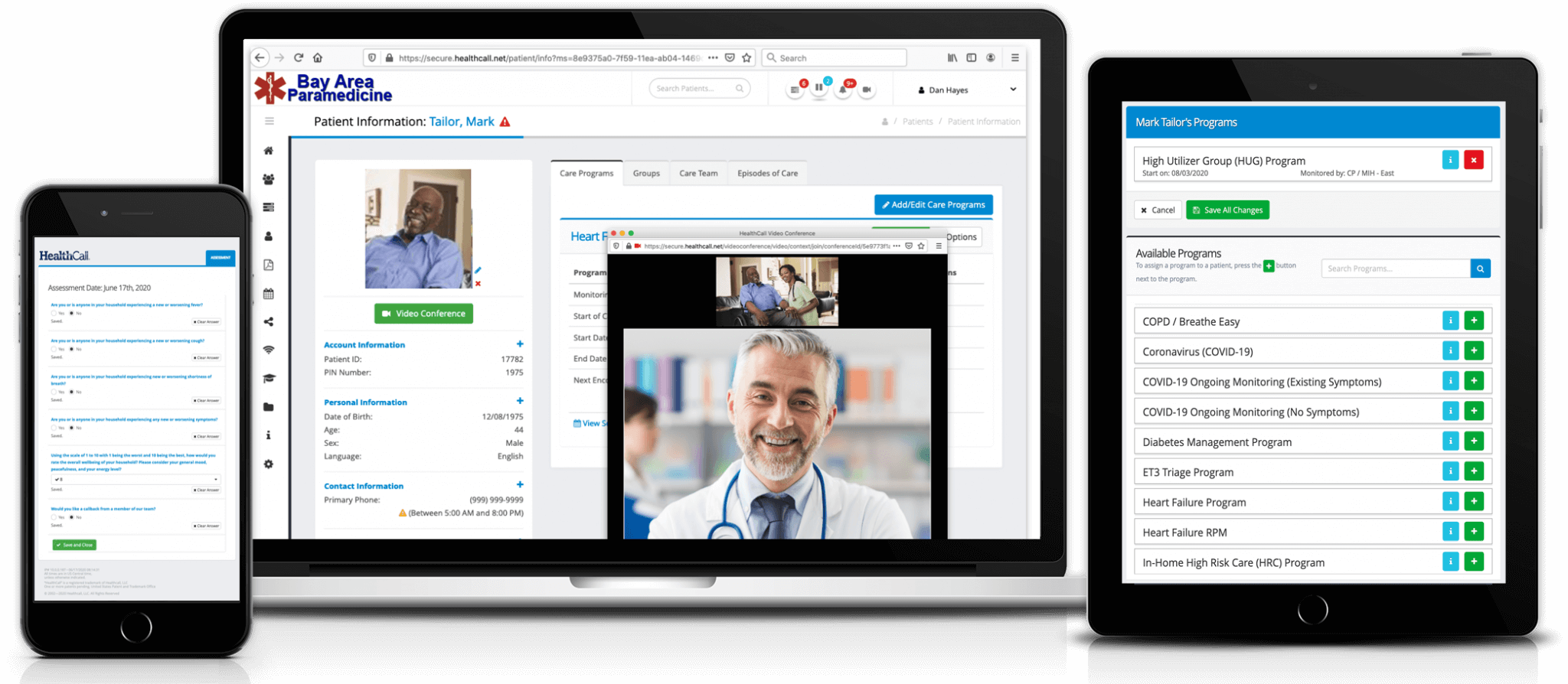 Fully Integrated, No App, Easy Billing
Designed for virtual care and Emergency Triage, Treat, and Transport (ET3) initiatives, HealthCall video service provides secure, quality live streaming for up to four people.
Easily launch video directly within the HealthCall platform to invite patients, care providers and others. Recipients simply click on the secure link to join the video conference. No apps to install, no registration and no licensing make HealthCall video easy, secure and highly scalable.
Fully integrated video streamlines and automates documentation and billing. Participants, time, duration, encounter notes, and assessment data can be automatically exported for billing.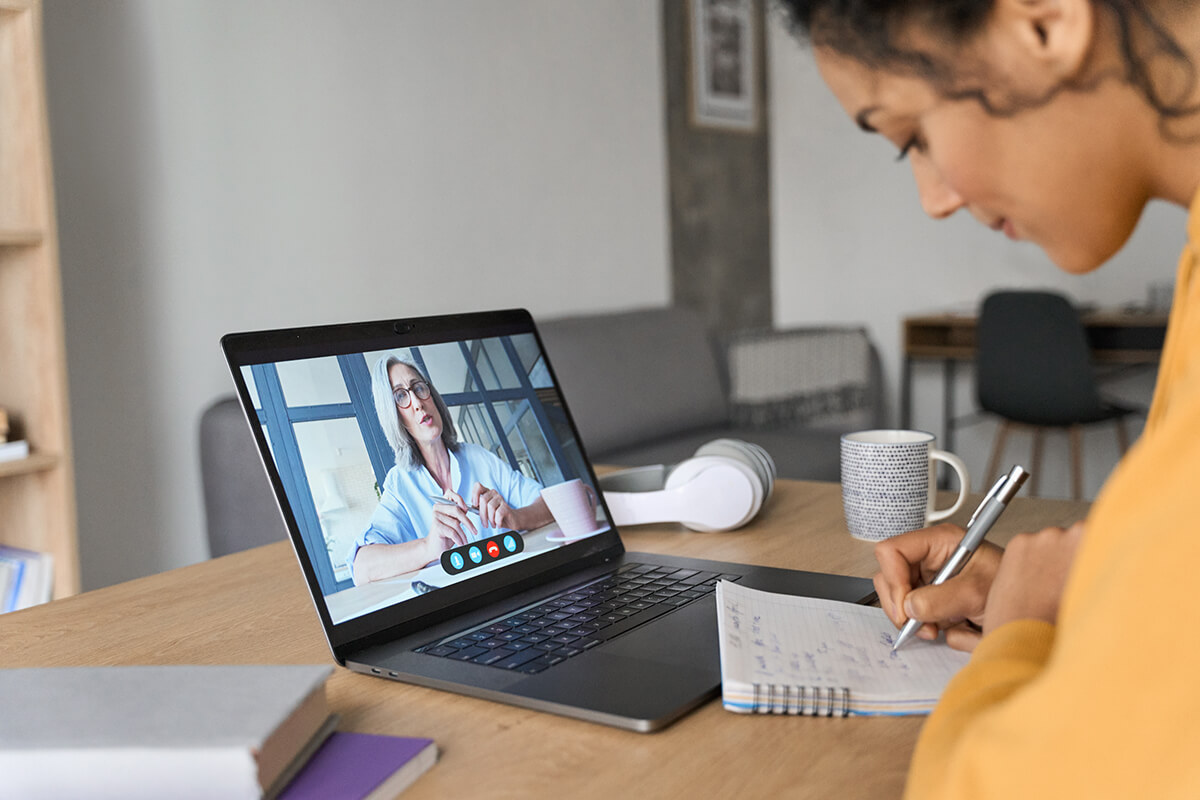 HealthCall's support and services are another way we set ourselves apart from the competition.
Our experts will work with you and your organization to make sure your HealthCall system is up and running as quickly as possible—usually within just four to six weeks. Our online tutorials, care specialist webinar trainings, and HealthCall-U make the implementation process easy and seamless. And long after implementation, we'll still be standing by with a dedicated, U.S.-based support team.
Comprehensive Support that Puts Your Needs First
Enjoy a comprehensive, clinically driven implementation process that puts the needs of the patients—as well as your operational needs—first
Get clinical and technical support from U.S.-based healthcare professionals with more than a decade of experience in care coordination and communications
Launch your HealthCall system in an average of four to six weeks
Enjoy all the benefits of our comprehensive HealthCall-U
Get the most out of the platform with online tutorials
Train your care specialists right with our special webinars